Arancini Siciliani Rice Balls are a classic street food of Sicilian cuisine: hot, crunchy and with an irresistible filling.
These appetizers are delicious timbales of saffron rice in a conical or round shape with a filling that changes from city to city and sometimes from family to family, because everyone has their own version.
There are about more than 50 different types of arancini, from the most classic with meat sauce cheese or ham and mozzarella to the more original ones: with mortadella and pistachio, vegetarian, with sausage and mushrooms, with pumpkin and bacon and many others.
The main feature of Arancini di riso is a crunchy crust that hides a soft and tasty heart. Both for their golden color and for their shape, they recall an orange and from this they took their name.
It is a simple recipe that requires only a little time available.
Today we will prepare my grandmother's recipe, Sicilian origins, which includes filling with meat sauce and peas and the classic boiled rice seasoned with saffron and butter.
The classic shape of Arancini al ragù is a cone or pyramid to distinguish them from Arancini al burro (ham and cheese based) but I preferred to prepare them round because I had broken my mold for arancini and making them by hand I'm a little clumsy .. I hope my grandma doesn't get too angry!
It is a simple recipe which requires following a few simple basic rules for a perfect result: choosing the right rice that keeps cooking, a good creaming, a thick and tasty ragout, and finally a perfect batter for the breading essential to obtain golden and crunchy Arancini at the right point that do not break during cooking.
The Sicilian Arancini are excellent tasted both hot and at room temperature, you can serve them both as finger food and as an appetizer but also, given the quantity and variety of ingredients, as a single dish accompanied by a nice salad.
At the bottom of the recipe you will find other valuable tips for a perfect success of Sicilian Arancini.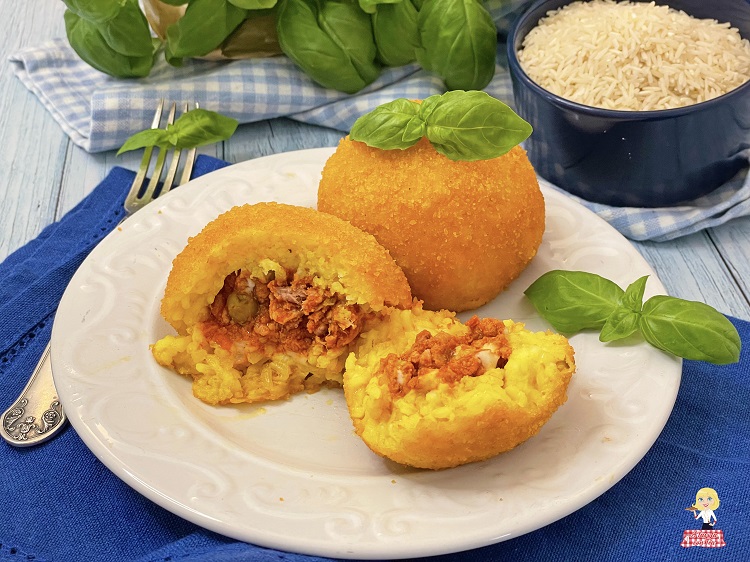 Difficulty

Easy

Cost

Medium

Preparation time

55 Minutes

Rest time

1 Hour

Cooking time

15 Minutes

Serving

6

Cooking method

Frying

Cuisine

Italian
Ingredients
RICE
2
3
/
4
cups
rice
(

Roma or Carnaroli 500 g

)
4
1
/
2
cups
vegetable broth
(

about 1 liter

)
1
/
3
cup
unsalted butter
(

90 g

)
RAGU
2
tablespoons
extra-virgin olive oil
1
lb
minced beef meat
(

about 500 g

)
2
tablespoons
tomato paste
water
(

about 1 cup 200 ml

)
BREADING
2
glasses
all purpose (AP) flour
767,79 Kcal
calories per serving
Power 767,79 (Kcal)
Carbohydrates 95,06 (g)

of which sugars 5,68 (g)

Proteins 30,11 (g)
Fat 28,10 (g)

of which saturated 11,72 (g)

of which unsaturated 10,00 (g)

Fibers 4,85 (g)
Sodium 1.218,27 (mg)
Tools
STEPS
RICE
Heat the broth in a saucepan with butter and saffron. When it starts to boil, add rice, lower the heat and cook until all the broth has been absorbed.
Transfer the cooked rice to a bowl to cool completely. The rice must be cold when preparing Arancini.
RAGU
Chop onion, celery and carrot in the mixer. Saute the vegetables in a large pot together with 2 tablespoons of the extra virgin olive oil. After 2 minutes add minced meat and brown over high heat for about 8/10 minutes, stirring occasionally.
Add red wine and let it evaporate, then add peas, tomato paste and a glass of water, lower the heat and cook for about an hour, stirring occasionally.
The gravy must become thick and full-bodied. When cooked, remove it from the stove and let it cool completely.
ARANCINI
Moisten your hands with a little water, this will help. Take two large spoons of rice and place them in the center of the palm of your hand, with the other hand flatten it slightly and create a cavity in the center. Insert a spoonful of seasoning inside Arancina and then close it on itself. If necessary, take a little more rice. Proceed in the same way to prepare all the Arancini.
BREADING
Put flour, water and eggs in a bowl and beat well with a hand whisk to obtain a fairly thick but fluid consistency.
Pass Arancini in the batter and immediately after in the breadcrumbs. You are now ready to fry.
FRYING
Put seed oil in a frying pan with high edges, bring to temperature 356 F – 354 F (about 180° -190°C) and start frying Arancini a few at a time so as not to lower the oil temperature too much. They must become golden (about 3 minutes).
When cooked, transfer to a plate with absorbent paper. Serve Arancini still hot or at room temperature.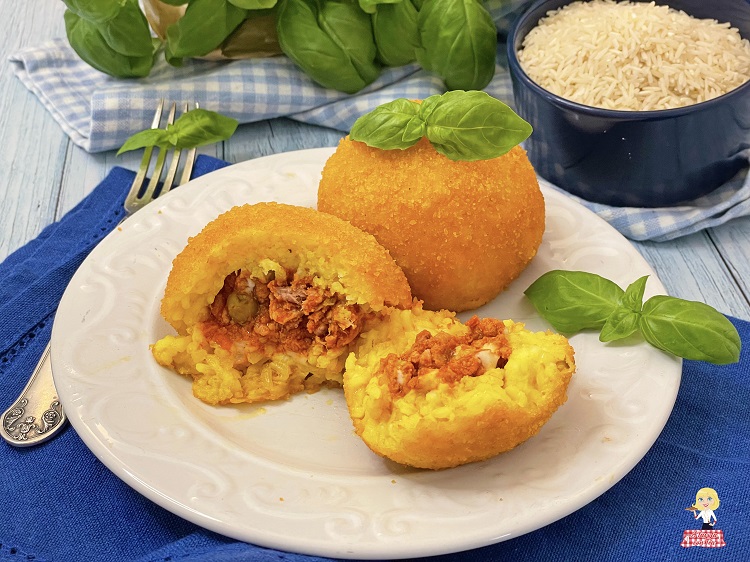 NOTE
OIL If you don't have a cooking thermometer to find out which oil is at the right temperature for frying, test by dipping breadcrumbs: if it starts to fry immediately and floats to the surface, it means that the oil is ready.
BATTER You can make batter, without egg, just with flour and water.
FILLING You can add chopped cheese such as caciocavallo, provola or mozzarella to the filling together with the ragù.
STORAGE
Arancini rice balls still raw can be stored in the fridge for a maximum of 2 days or in the freezer for 15 days. You don't need to defrost them to fry them but, in this case, I recommend making them smaller.
If Arancini, on the other hand, are cooked, I suggest you eat them immediately because if you keep them in the fridge they can lose their crunchiness.
You can prepare both the ragù and the rice the day before.