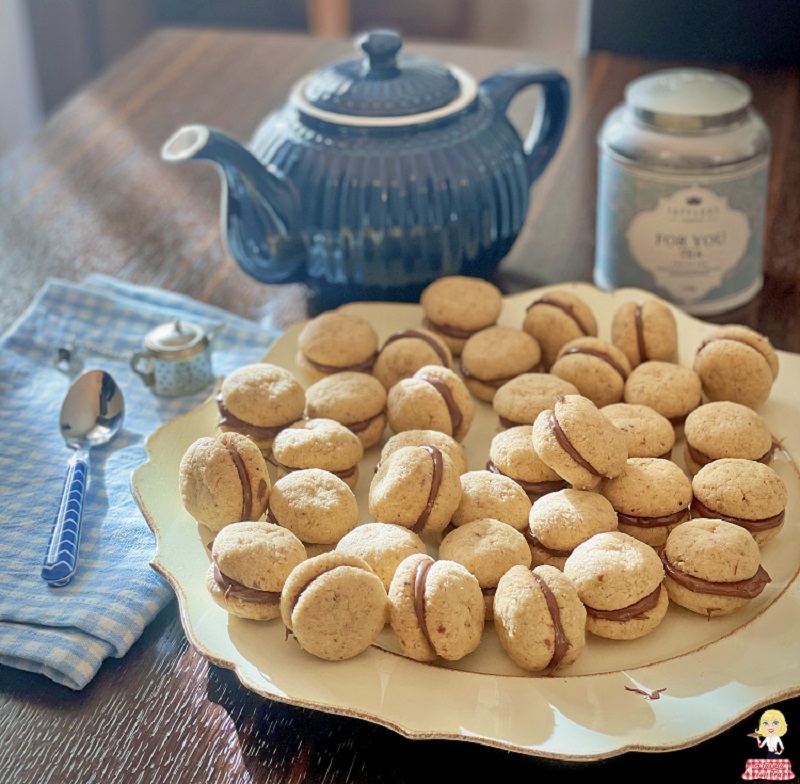 BACI di DAMA are small Italian cookies made with two almond biscuits held together by good dark chocolate.
While this recipe sounds difficult, it's actually really simple and quick, less complicated than baking a cake.
All you have to do is put all the ingredients in the planetary mixer, or mix by hand, let the dough rest for a few minutes, form the hemispheres, and then cook in the oven for just 15 minutes.
When the cookies are cooked, you have to fill them with melted chocolate, but it's easy and fun and you can do it with your children too.
Following this recipe you can prepare the dough with hazelnuts instead of almonds or with pistachios and fill the Baci di Dama with Nutella, hazelnut cream or pistachio cream.
If I had to choose my favorite among Baci di Dama with almond flour (original Piedmontese recipe), Baci di Dama with hazelnut flour and Nutella cream, or Baci di dama with pistachio flour and pistachio filling, I would have no doubts: I choose all three!
It is impossible to decide because, whatever ingredient you use, these Baci di Dama melt in your mouth and are irresistible. They are so good that you won't be able to stop eating.
Difficulty

Very easy

Cost

Medium

Preparation time

15 Minutes

Rest time

45 Minutes

Cooking time

15 Minutes

Serving

20 cookies

Cooking method

Oven

Cuisine

Italian
Ingredients
1
1
/
4
cup
all purpose (AP) flour
1
teaspoon
vanilla extract
5
/
8
cup
chocolate drops
(

about 100 g

)
385,76 Kcal
calories per serving
Power 385,76 (Kcal)
Carbohydrates 32,36 (g)

of which sugars 17,81 (g)

Proteins 5,92 (g)
Fat 25,70 (g)

of which saturated 8,69 (g)

of which unsaturated 4,38 (g)

Fibers 2,81 (g)
Sodium 151,90 (mg)
STEP 1
Put all-purpose flour and cold butter cut into small pieces in the bowl of the stand mixer. Operate mixer until you get a sandy compound. Add other ingredients: almond flour, sugar, vanillin and salt. Operate the mixer again to mix all the ingredients well.
Transfer the dough to a work surface, give it a rectangular shape, wrap in plastic wrap and leave to rest in the fridge for 30 minutes.
STEP 2
After the time has elapsed, take the dough again and divide it into many portions of 1/4 ounce (7 g) each. From these obtain hemispheres by working the dough with your hands. You will get about 40 balls of dough. Arrange hemispheres on a baking sheet covered with baking paper, let it rest in the fridge for about 1 hour.
STEP 3
Turn on oven and preheat to 347 F (175° C) degrees. Cook Baci di Dama for about 15/17 minutes. Cooking time depends on the type of oven and the size of the biscuits. Check cookies after 15 minutes – they should be browned but not overcooked. When the biscuits are cooked, wait for them to cool down before removing them from the pan as they could crumble.
STEP 4
In a microwave-safe bowl, melt the chocolate chips in 10 to 15-second intervals, stirring occasionally until the chocolate chips have melted halfway (about 2 minutes). Then, keep stirring until the rest of them have dissolved completely.
STEP 5
Note: these biscuits are homemade so it is impossible that the semi-spheres are all identical. Before filling them, match the ones most similar in shape and size. Spread 1 teaspoon of the melted chocolate on the bottom half of the cookies. Cover with the other half and press to adhere. Let sit undisturbed until the chocolate has set, about 30 minutes. Baci di Dama cookies are ready!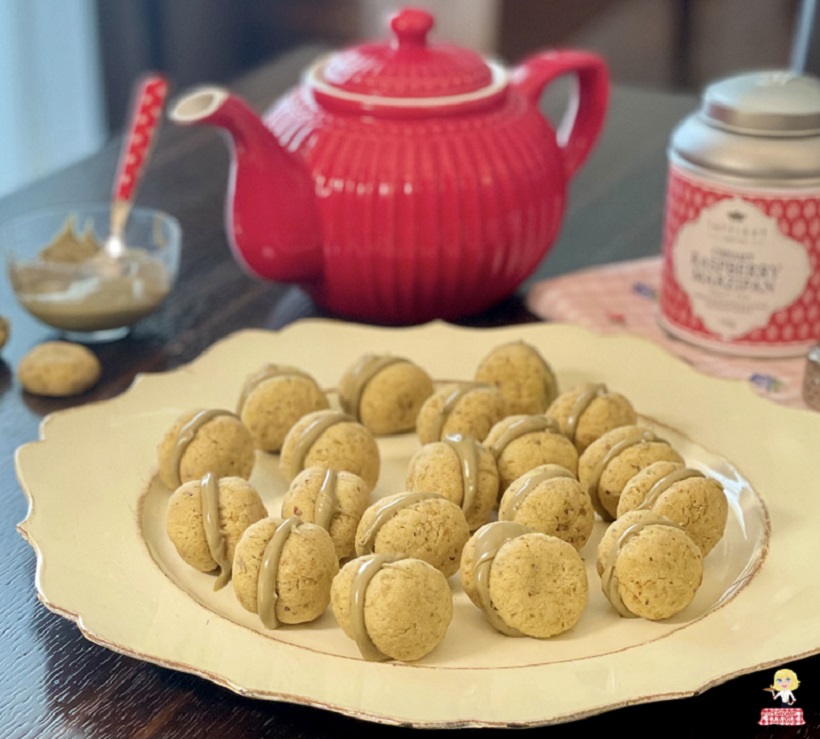 NOTE
ALMOND FLOUR. Instead of almond flour, you can put the peeled almonds in the mixer together with half the dose of sugar indicated in the recipe.
You can replace the almond flour with hazelnut flour or pistachio flour.
BUTTER Use only chilled unsalted butter for this recipe.
TEMPERATURE. It is most important the temperature of the dough to guarantee the correct shape and consistency of Baci di Dama.
Before cooking put them to cool in the fridge to prevent them from melting or cracking.
GLUTEN-FREE BACI DI DAMA Replace all-purpose flour with the same amount of rice flour.
CHOCOLATE DROPS: You can replace chocolate drops with hazelnut spreadable cream or pistachio spreadable cream.
STORAGE
You can storage baci di dama in an airtight biscuit jar for up to a week.