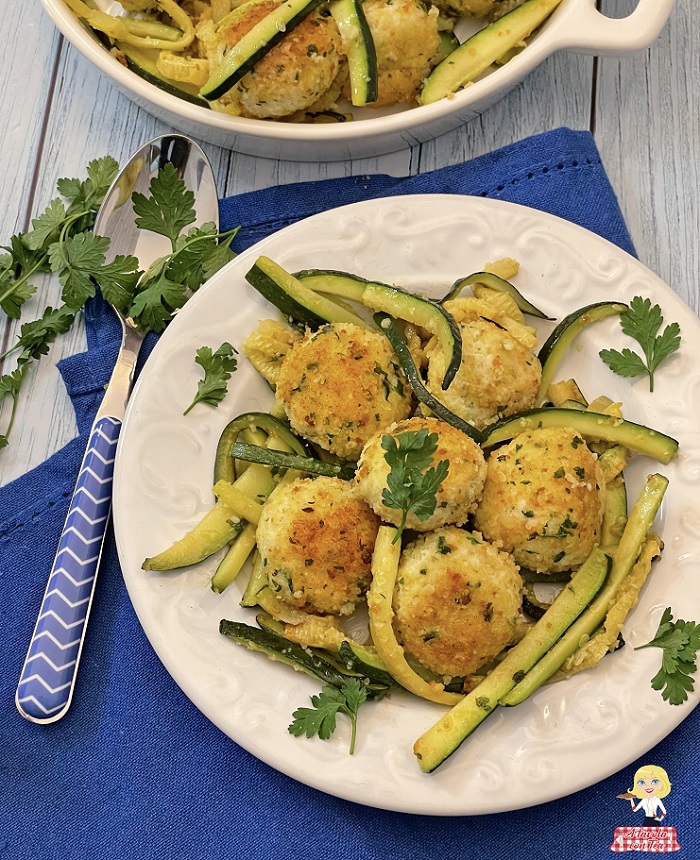 Everyone likes meatballs, they are a guaranteed success whether they are made: vegetables, meat or fish.
Today's recipe is quick and super tasty and is prepared with frozen fish: a perfect dinner saver when you have little time.
The fish balls are tasty, crunchy on the outside, soft on the inside. With this recipe you will be able to get even children or those who don't like fish to eat fish.
These meatballs full of flavor are prepared in a short time and are very easy: just defrost the fish, put it in the mixer with aromatic herbs and breadcrumbs, blend everything, form the meatballs and cook in a pan.
You can prepare them either with cod or with frozen plaice or sole or with fresh fish.
Today I cooked these fish balls fried in a pan but if you prefer healthier cooking you can also cook them in the oven or with tomato sauce always following the same recipe.
For my meatballs I chose frozen cod fillets, already cleaned and without bones. All you need is defrost it, dry well with absorbent paper, add a few tablespoons of breadcrumbs, parsley, garlic and a little grated cheese.
Prepare these delicious fish croquettes and serve as a tasty appetizer with mayonnaise or yogurt sauce or as a second course accompanied by vegetables or basmati rice.
Despite the presence of fish, they are delicate and light however you decide to cook them, and you won't be able to stop eating!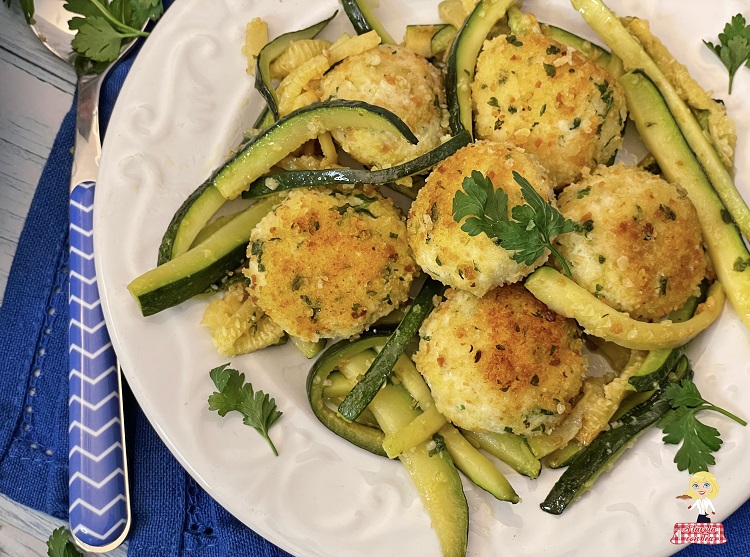 Difficulty

Very easy

Cost

Cheap

Preparation time

15 Minutes

Cooking time

10 Minutes

Serving

4

Cuisine

Italian
Ingredients
for fish meatballs
4
tablespoons
parmesan cheese
2
tablespoons
bread crumb
for breading
5
tablespoons
bread crumb
1
/
2
tablespoon
grated parmesan cheese
1
l
seed oil
(

for frying

)
2.504,92 Kcal
calories per serving
Power 2.504,92 (Kcal)
Carbohydrates 27,64 (g)

of which sugars 2,39 (g)

Proteins 24,22 (g)
Fat 258,96 (g)

of which saturated 38,78 (g)

of which unsaturated 211,67 (g)

Fibers 1,91 (g)
Sodium 750,91 (mg)
Steps
STEP 1
Defrost frozen fish fillets at room temperature (if you're short on time, soak them in hot water in a well-sealed food bag for about 15 minutes). Squeeze fillets to remove excess water.
STEP 2
Mix in the food processor fish fillets, parsley, garlic, breadcrumbs, grated cheese and a pinch of salt, to chop fish and mix all ingredients (it must become like a puree).
STEP 3
Put fish mixture in a bowl, add egg and mix. The dough must be firm but soft and not too moist, if it is too soft, add a little breadcrumbs. Take a spoonful of dough and form meatballs with your hands.
Mix 5 tablespoons of breadcrumbs, 1 tablespoon of chopped parsley and ½ tablespoon of grated Parmesan in a plate. Beat egg white with a fork in a dish, then pass meatballs first into the egg white and then into the breading.
STEP 4
Heat seed oil in a pan, when it is ready start frying meatballs a few at a time. Bake until they turn golden on the surface (about 6/8 minutes). As soon as they are ready, transfer them to a plate with absorbent paper. Continue frying until all the meatballs are finished. Serve hot accompanied by salad or grilled vegetables.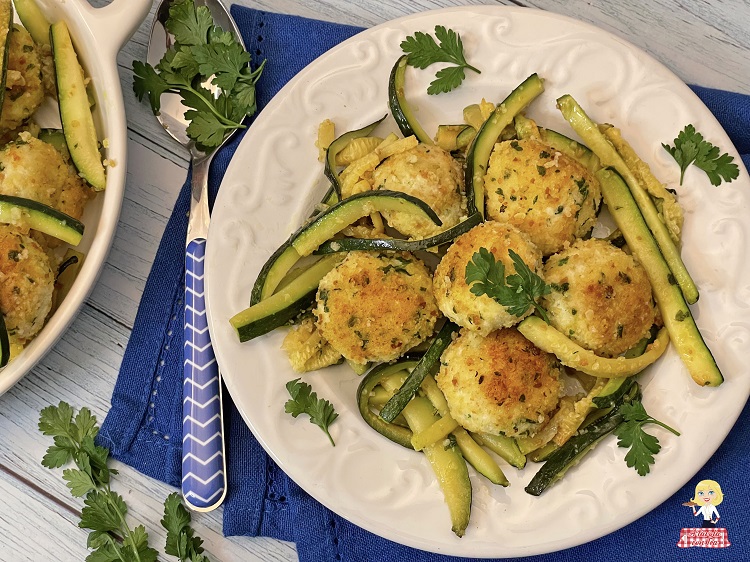 COOKING IN THE OVEN
For lighter cooking, place meatballs on a baking tray covered with baking paper, grease with a drizzle of extra virgin olive oil and bake at 392 F for about 20 minutes. Turn meatballs halfway through cooking time. Remove from the oven and let it rest for a minute before serving.
NOTE
To prepare fish balls you can also use fresh fish fillets.
If you use frozen fish you can choose: cod, hake, plaice or sole.
To soften the dough, you can add a mashed boiled potato or 2 tablespoons of ricotta.
You can flavor meatballs with parsley and garlic or replace with grated lemon zest for a touch of freshness.
STORAGE
Fish balls can be kept in the fridge for a maximum of 2 days closed in an airtight container. If you use frozen fish, you can freeze meatballs only after they have been cooked.
OTHER RECIPES