Italian NUTELLA cake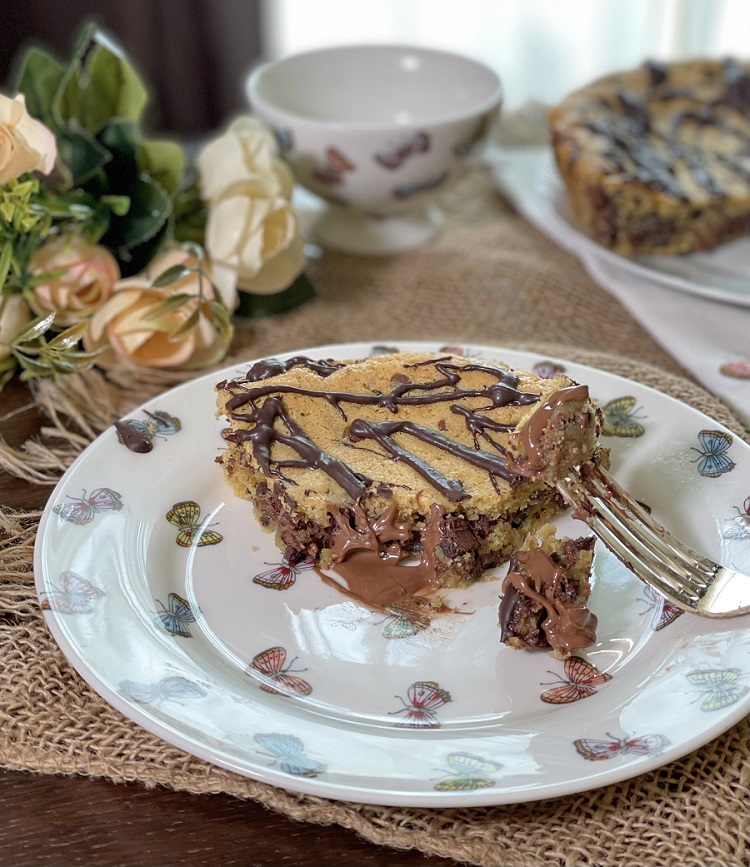 Do you recognize the sweet and fragrant scent that freshly baked "cookies" give off?

Now imagine a giant "COOKIES" biscuit with its enveloping taste and that texture that melts in your mouth at the first bite and multiply it by 10.

Today we will prepare an Italian cake with a soft Nutella heart.

A very simple and quick dessert to prepare: two layers of dough, similar to classic "cookies" with a soft and creamy Nutella filling.

A delicious recipe for a cake that remains perfect even for a week.

Italian Nutella Cake: a crunchy crust on the edges, a creamy filling in the center, perfect for an energetic breakfast or a delicious snack.

If you prefer, you can replace Nutella with chocolate cream and if you are very greedy you can add hazelnuts, almonds or walnuts to the mixture.

Try this Italian Nutella Cake and you will never be able to do without it

Italian NUTELLA cake
Difficulty

Easy

Cost

Cheap

Preparation time

15 Minutes

Cooking time

35 Minutes

Serving

9 inch pan

Cooking method

Oven

Cuisine

Italian
1.066,50 Kcal
calories per serving
Power 1.066,50 (Kcal)
Carbohydrates 128,57 (g)

of which sugars 80,06 (g)

Proteins 12,88 (g)
Fat 58,44 (g)

of which saturated 36,23 (g)

of which unsaturated 12,30 (g)

Fibers 9,10 (g)
Sodium 238,57 (mg)
Ingredients
3

cups

flour

(3 cups baking flour (350 g) )

1

cup

butter

(1 cup unsalted butter softened (250 g) )

1

/

2

cup

sugar

(½ cup sugar (125 g))

1

/

2

cup

brown sugar

(½ cup brown sugar (125 g))

2

teaspoons

baking powder

(about 14 g)

chocolate drops

(1 1/3 cup dark chocolate drops (300 g))
Preparation
Dough preparation
Work softened butter with both sugars until smooth and fluffy. You can work it either with a blender or in the mixer (use the balloon whisk hook)

Add eggs one at a time and mix well.

Do not add the second until the first is completely blended.
Now start to combine sifted flour with baking powder, keep stirring until you have finished ingredients.

Put the baking soda, a pinch of salt and mix again.

This is normal if the dough is very sticky.

Finally add the chocolate chips and mix for the last time.
Step 2
Divide dough into two equal parts.

Take baking tray and cover with baking paper.

Since the dough is very sticky, use 1 tablespoon to create a cake base.

Alternatively you can wet your hands so the dough does not stick and form the cake base with your fingers.

Spread a generous layer of Nutella on top of the cake (at least 0,2 inch), do not reach the edge of the cake.

Cover the Nutella layer with another part of the dough to create the surface layer of the cake.

Squeeze edges lightly so Nutella doesn't come out during cooking.

Before baking the cake, let it cool in the refrigerator for 20 minutes (this step is used to keep the inside of Nutella soft even after cooking).
Bake
Bake in a preheated oven at 356 F (180 CELSIUS) for about 35 minutes

The surface of the cake should turn slightly golden.

Before removing the cake from the pan, allow to cool otherwise it could break.

The Italian cake NUTELLA is ready !!!
STORAGE
Nutella Italian cake can be kept at room temperature for a maximum of 5/6 days.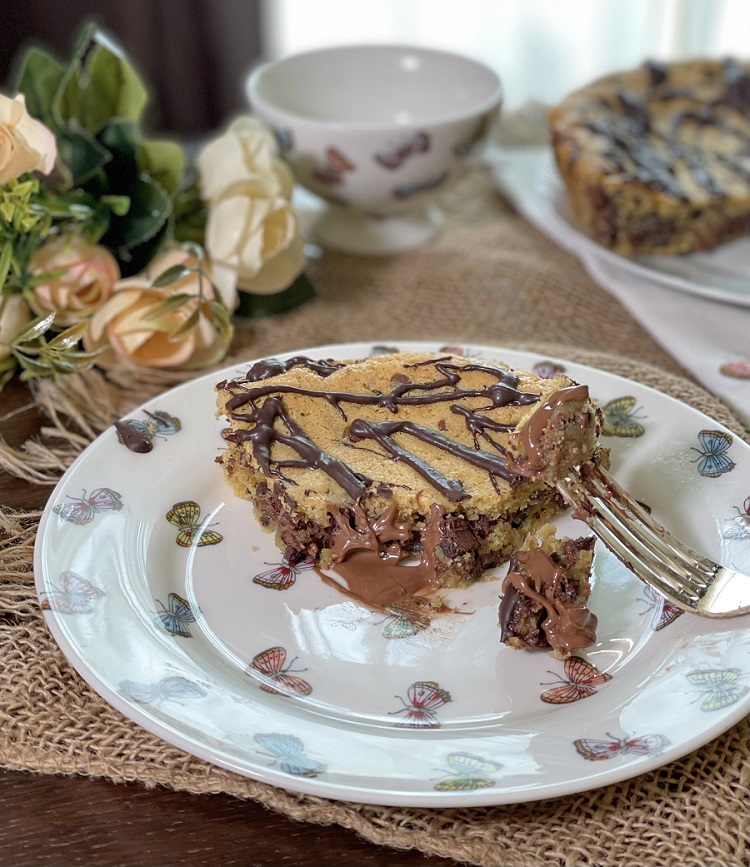 NOTE
Recently healthy Nutella alternatives have emerged:
–         Nocciolata organic halzenut spread with cocoa and milk by Rigoni Asiag
–         Askinosie chocolate halzenut spread made with high-quality chocolate, hazelnuts (oil and butter), cocoa powder, organic cane sugar, and roasted cocoa nibs
–         Jem halzenut raw ccacao butter:  Raw, vegan, and certified organic, Jem's take on Nutella is one of the more natural versions.
if you love typical Italian desserts, look Slow cooker Grandma's APPLE PIE