PIZZA IN BATTER WITH VEGETABLES is a recipe that will win you over just by looking at it, perfect for those who are intolerant to brewer's yeast and tasty for those who want to prepare a pizza in a short time. A delicious pizza, light and rich in vegetables such as pumpkin, broccoli and zucchini that are previously cooked in the oven.
In the meantime that the vegetables are cooking you can prepare the batter, just put in a bowl flour, water, baking powder and oil, mix and pour everything on the vegetables, then put everything back to cook in the oven. It 's really a treat, you can eat it either hot or warm and accompany it with cold cuts and cheeses and then serve it at a buffet or aperitif. A versatile pizza in batter, because you can stuff it with whatever you like, excellent also with potatoes, peppers or mushrooms, in short, with this dough you can give vent to your imagination. A pizza that riamane always excellent and tasty with any ingredient you want to enrich it … never disappoint!

Difficulty

Very easy

Cost

Very cheap

Preparation time

15 Minutes

Cooking time

25 Minutes

Cooking method

Oven

Cuisine

Italian
Ingredients
2
tablespoons
extra-virgin olive oil
For vegetables
2
tablespoons
extra-virgin olive oil
Pizza in batter with vegetables
Step
1-Take the broccoletti florets and boil them in water for 5 minutes, drain and place in a bowl.
2-After that, cut the pumpkin into pieces not too small and trim the zucchini and cut it into rounds and add everything to the broccoli
3-Season with oil, salt pepper and mix and pour the vegetables into a baking dish lined with baking paper. Bake at 200° for 15 minutes.
Let's prepare the batter:
1-In a bowl pour the flour and add a pinch of salt.
Gradually add the cold water and mix; we must obtain a batter, the consistency will be more or less that of custard.
2-Take the cooked vegetables out of the oven and pour the batter over them, trying to distribute it well over all the vegetables.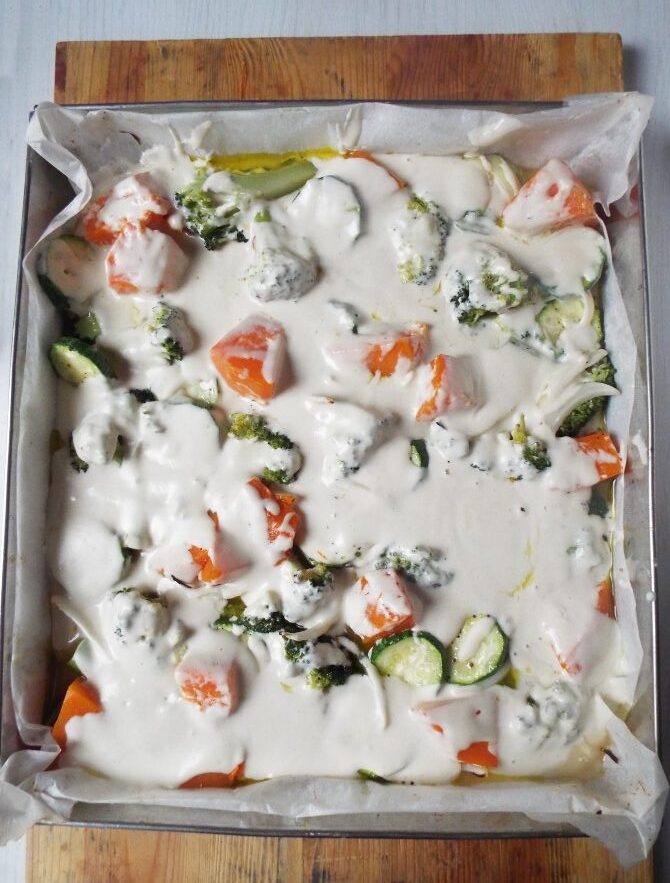 3-We bake at 200° for about 25 minutes, turn on the grill function to gratinate…. Enjoy!