Traditional Italian cuisine is a symphony of flavors, with genuine dishes of often humble origins, which have been handed down from generation to generation, such as chicken scarpariello. This simple and tasty recipe for cooking chicken on the stove, from Italy arrived a few decades ago in America, where it was enriched with various ingredients – sausages, mushrooms, peppers – which certainly made it a more nutritious and appetizing dish. However, they have somewhat distorted its meaning, which also resides in the name "scarpariello", term which in the Neapolitan dialect means shoemaker, one of the humblest professions that existed. Therefore, just like pasta scarpariello, the authentic Italian chicken scarpariello is a dish made up of simple and humble ingredients, which once could have been available to the poorest families: tomatoes, onions and chili peppers.
As with other dishes of the Neapolitan tradition – I am thinking, for example, of the classic Neapolitan ragout – the chicken scarpariello made it possible to enclose an entire meal in a single preparation: the cooking sauce from the chicken, in fact, was also used to season pasta, so that the flavor and nourishment of the meat were exploited as much as possible.
If you want to discover the authentic recipe of Italian chicken scarpariello, in order to be able to alternate it with the one better known in the United States, you are in the right place. The Neapolitan chicken scarpariello represents, so to speak, the sum of Italian cuisine: quality ingredients, simple preparation and a result of extraordinary taste.
You might also be interested in:
Difficulty

Very easy

Cost

Very cheap

Preparation time

15 Minutes

Cooking time

35 Minutes

Serving

4 servings

Cooking method

Stove

Cuisine

Italian regional

Seasonality

Evergreen

Region

Campania
Inredients for Italian chicken scarpariello
2
tablespoons
all purpose (AP) flour
(

optional; for the gluten-free version I used rice flour

)
9
oz
cherry tomatoes
(

250 gr

)
How to prepare authentic chicken scarpariello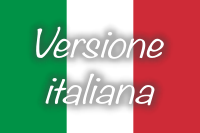 Puoi trovare la versione italiana di questa ricetta qui!
To prepare the chicken scarperiello according to the original Neapolitan recipe, first cut the chicken into not too large pieces. If you want a lighter dish you can remove all or part of the skin, I left it. Wash and dry the cherry tomatoes, cut them in half.
Slice the onion thinly. Pour a little flour into a plate or bowl (I used gluten-free rice flour) and lightly flour the chicken pieces one at a time (3). This step is optional – it is used to make the sauce a little thicker and creamier – but highly recommended if you use skinless chicken: in this way it will avoid drying out excessively when you brown it.
In a non-stick pan, heat a little oil well with a chopped hot pepper. Then lay the pieces of chicken next to each other and brown them over low heat for 2-3 minutes, then turn them and brown them on the other side as well; abundantly salt and pepper.
At this point add the tomatoes and onions, a pinch of salt and mix well (8). Cover the pan with a lid and cook over low heat for about 30 minutes.
Once the cooking time has elapsed, remove the lid and check that the chicken is thoroughly cooked (times may vary according to the size of the chicken pieces). Then continue cooking for a couple of minutes without a lid, just long enough for the sauce to thicken slightly.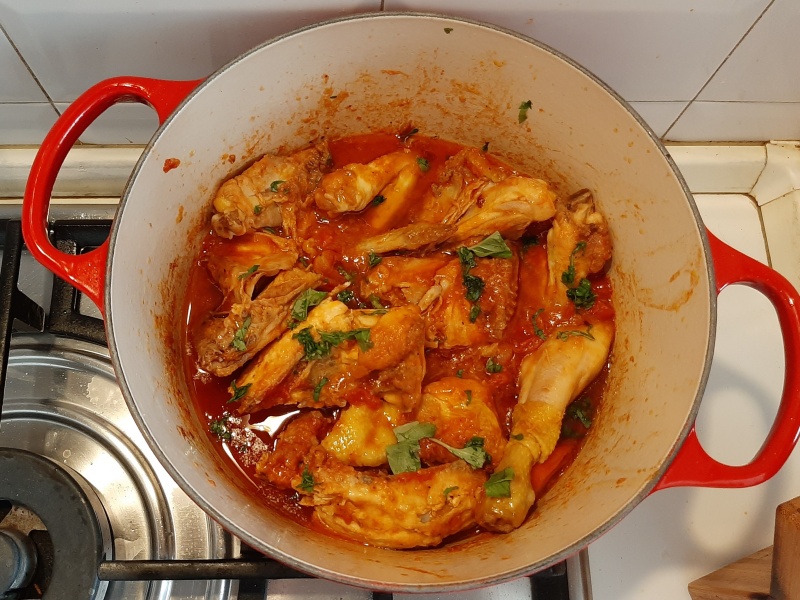 Turn off the heat and complete the dish with plenty of chopped parsley and chopped basil. You can serve the chicken scarpariello garnished with a little of its sauce and use the rest for season spaghetti, or as a delicious dip for bread or french fries.
How to store
Chicken scarpariello can be cooked in advance and stored at room temperature for 4-6 hours. To keep it longer, it is better to put it in the fridge, where it will keep for 3 days.
Tips and variations
The addition of bell pepper, also envisaged in the Italian-American recipe of chicken scarpariello, is also present in some Italian cookbooks, where sometimes the chicken is blended with a little white wine before adding the tomato. In winter, when tomatoes are not in their full season, you can opt for good canned peeled tomatoes.