BACON wrapped BEEF tenderloin


Bacon wrapped beef tenderloin in a pan or in the oven is an appetizing second dish of meat.

To be served hot on the table to counteract the winter cold, perhaps by warming up in front of a fireplace.

The meat is made even more tasty by the presence of pancetta which becomes crunchy and even more delicious when cooked.

It is an easy second course to make.

It gives its best when prepared with a prime cut of meat such as tenderloin, but you can also use other types of high-quality meat.

To keep the meat tender, I recommend not to completely degrease and wrap with thin slices of sweet or smoked bacon depending on the taste you want to give to the final dish.

Very few ingredients are needed: extra virgin olive oil, dry white wine, garlic and rosemary.

To be served cut into slices and sprinkled with the cooking juices that are formed.

Accompany this main course with a side of roasted potatoes, mashed potatoes or spinach.

Perfect for Sundays for lunch or for special occasions such as family dinners, #thanksgiving, Christmas, New Years.

BACON wrapped BEEF tenderloin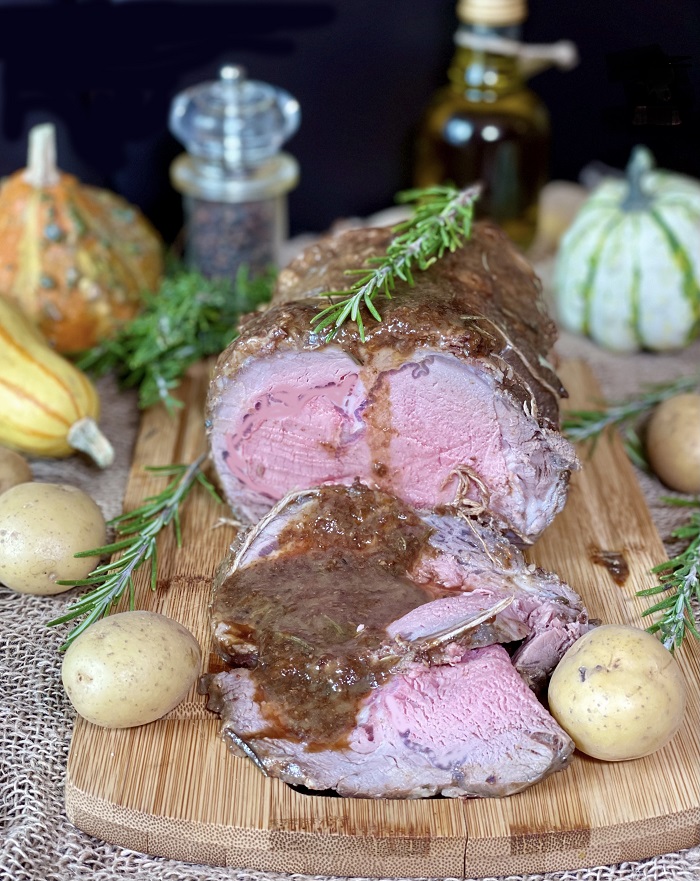 Difficulty

Very easy

Cost

Medium

Preparation time

20 Minutes

Cooking time

1 Hour 30 Minutes

Serving

6/8 PORTIONS

Cuisine

Italian
289,14 Kcal
calories per serving
Power 289,14 (Kcal)
Carbohydrates 5,83 (g)

of which sugars 0,09 (g)

Proteins 29,04 (g)
Fat 16,05 (g)

of which saturated 4,05 (g)

of which unsaturated 3,39 (g)

Fibers 0,18 (g)
Sodium 2.098,40 (mg)
Ingredients
2

pounds

beef

(Angus Beef tenderloin roast)

pepper

(1/2 teaspoon black pepper)

2

teaspoons

rosemary

(minced fresh rosemary)

14

slices

bacon

(traditional thin sliced)

4

tablespoons

extra-virgin olive oil

q.s.

vegetable broth

(or water)

oregano

(fresh oregano optional)
Preparation
STEP 1
Season the piece of meat with salt and pepper, taking care to massage it for a few minutes.

Place the piece of meat on a cutting board and coat evenly with slices of bacon.

It must be covered entirely with slices of bacon.
STEP 2
Tie the roast with string or insert into the roasting net.

In a large pot, also suitable for cooking in the oven, pour oil and add crushed cloves of garlic and rosemary and sizzle a little.

At this point, add the meat and brown evenly over medium heat.

The meat must be well sealed and browned.
STEP 3
Deglaze with white wine and let it evaporate.

When the alcoholic part has evaporated, pour a glass of vegetable broth or a glass of water.

Cover with a lid and continue cooking in a pan or in a preheated oven at 180 ° C for about 70 minutes

From time to time check that there is cooking liquid, otherwise add more broth or water.
STEP 4
After this time, remove the lid and continue cooking for another 20 minutes. The roasted roast should be well browned and the cooking liquid creamy.

Wrap the roast in a sheet of parchment paper and then aluminum and let it rest for about 15 minutes at room temperature.

Remove parchment paper and aluminum and slice the roast with a sharp knife.

Serve slices of roast with its sauce
STORAGE
It can be kept for two or three days in a container in the fridge.
WHICH MEAT TO USE
You can use both beef and veal but also pork, obviously they will have different cooking times.
If you choose pork I recommend loin, while if you opt for beef you can use veal – softer but less tasty – or veal.
IMPORTANT
When the roast is completely cooked, wrap it completely in silver paper and let it rest for at least 10 minutes.
If you don't and you cut it while still hot all the juices from the meat come out and the meat is tough.
OTHER RECIPES THAT MIGHT INTEREST YOU