Beef PINWHEELS Recipe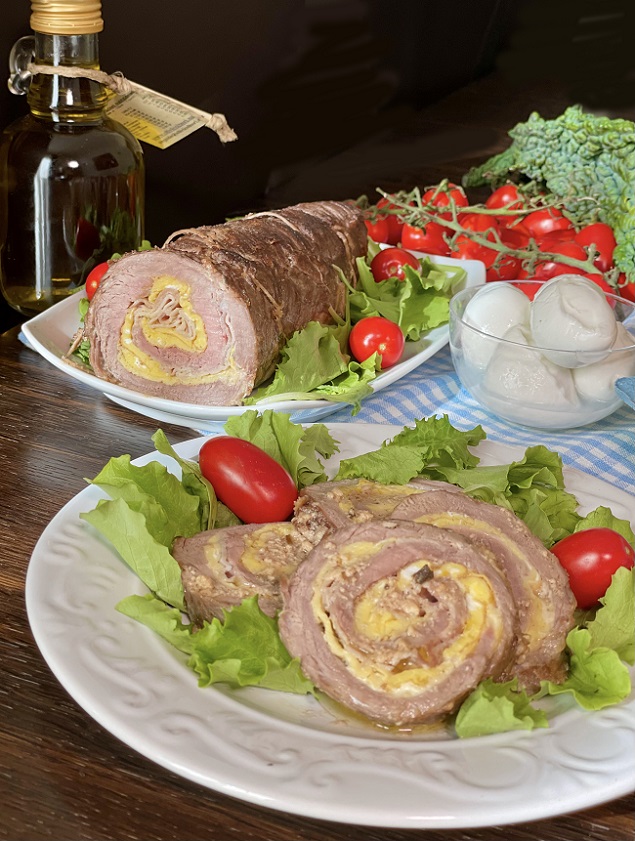 Today, let's make my beef pinwheel recipe.

This is a traditional recipe handed down from my mother-in-law, who come from Tuscany.

What I like about this recipe is that you can change the filling every time you make it. Don't like mozzarella? Try it instead with provolone.
Not a fan of eggs? Try it with boiled spinach. In any case it will be a great success

It can be a great dish to prepare for Christmas, New Year or even Thanksgiving if turkey isn't enough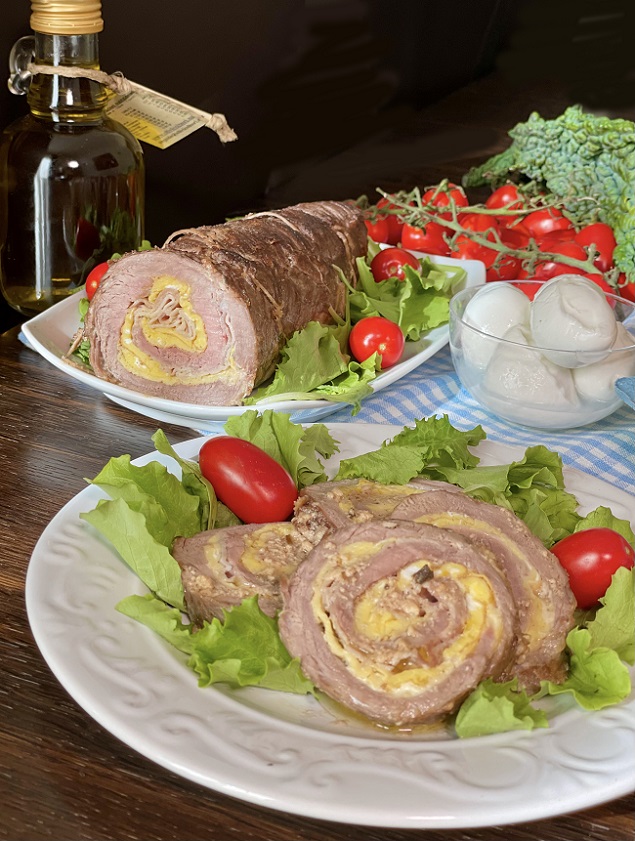 Difficulty

Easy

Cost

Medium

Preparation time

20 Minutes

Cooking time

30 Minutes

Serving

6/8 portions

Cuisine

Italian
547,34 Kcal
calories per serving
Power 547,34 (Kcal)
Carbohydrates 2,15 (g)

of which sugars 0,07 (g)

Proteins 53,70 (g)
Fat 36,12 (g)

of which saturated 15,26 (g)

of which unsaturated 9,97 (g)

Fibers 0,27 (g)
Sodium 1.546,66 (mg)
Ingredients
Beef PINWHEELS
1.8

pounds

beef fillet

(850 g)

3

ounces

extra-virgin olive oil
Omelette
4

tablespoons

parmesan cheese

(grated)
Preparation
STEP 1
Preheat Oven to 400°F.

Begin by preparing the beef loin. Pound the beef loin using a meat tenderizer until even. This will make the meat more tender and also allow it to cook evenly.

Using a basting brush, dip it into the olive oil and spread evenly over the top of the beef loin. Sprinkle sea salt and black pepper over the beef loin, to taste.
STEP 2
Prepare omelette. Beat the eggs in a bowl with a pinch of salt, a sprinkle of pepper and a grating of nutmeg.

Add grated Parmesan and mix well. Melt the butter in a non-stick pan, pour in the egg mixture and cook for about 3-4 minutes on both sides over moderate heat.

You need to get a wide and thin omelette. Let it cool down.
STEP 3
Now start placing the slices of cooked ham on top of the beef loin, taking care to cover it completely. At this point make a layer of egg omelette and lastly mozzarella.

Heat the rest of the olive oil in a non-stick pan over medium / low heat and add the garlic.
STEP 4
When the garlic starts to sizzle, add the beef loin and cook for about 3 minutes.

Turn the beef loin to one side using the tongs and cook for another 3 minutes or so.

Repeat these steps until each side of the roll is cooked evenly.
STEP 5
Once all sides are cooked transfer to the oven and bake for 25 minutes at 400 F °.

Remove the beef loin from the oven, allow to cool slightly.

Cut the beef pinwheels to the thickness you prefer. Serve with your favorite side dish.
STORAGE
The stuffed meat pinwheel can be stored in the refrigerator for 2 – 3 days maximum. It is not suitable for frozen food.
NOTE
Don't forget to remove the cooking twine.
I usually cut the beef pinwheels about an inch and a half thick.
If you don't like mozzarella replace it with provolone or other cheese. You can also insert a layer of spinach (you must first boil and squeeze well to remove water)
other tasty dishes for Sunday or a feast day
ORIGINAL Italian LASAGNA recipe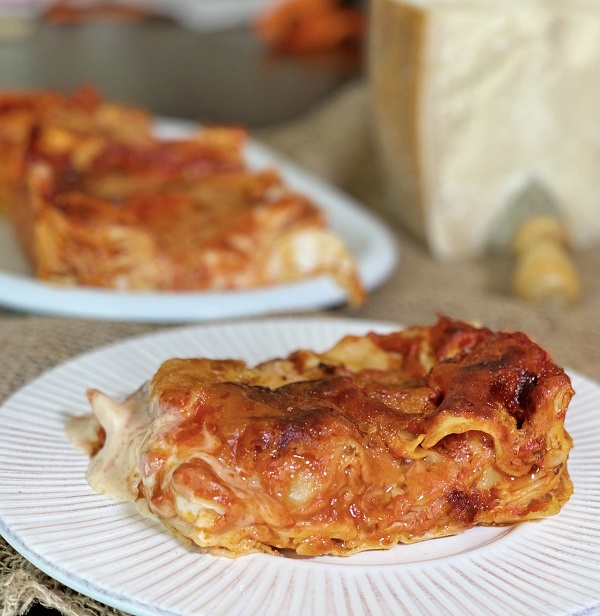 CHICKEN with VEGETABLES in the SLOW COOKER