Stuffed turkey roll. This stuffed turkey roll is a great alternative for those who don't have time to prepare the traditional holiday turkey. Not only is it packed with flavor, but it also bakes in just 1 hour and 30 minutes.
This recipe can be prepared in advance, Ideal for Thanksgiving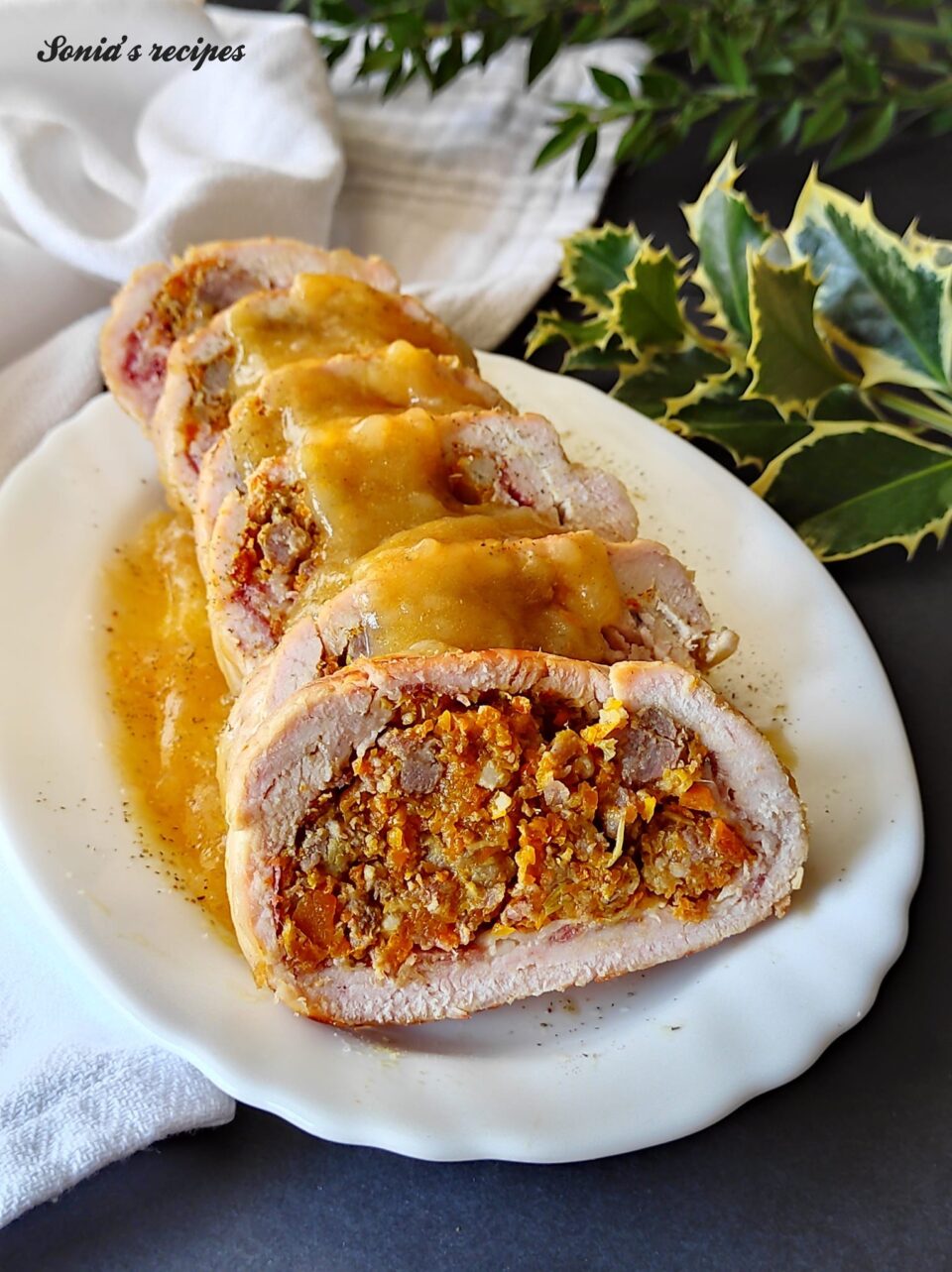 Difficulty

Very easy

Cost

Cheap

Serving

4 people

Cooking method

Stove

Cuisine

International
Ingredients Stuffed turkey roll
Stuffing ingredients
1
/
2
cup
celery
(

finely cut

)
1
/
2
cup
chicken broth
(

120 ml

)
For the turkey roll
1
/
4
pound
bacon
(

sliced 120 g

)
4
tablespoons
butter
(

60 g

)
2
cups
chicken broth
(

500 ml

)
Steps Stuffed turkey roll
To prepare the turkey breast stuffing Melt the butter in a large skillet over medium heat. Add the carrots, onions and celery ( chopped ) and cook, stirring often, until soft.
Add the skinless sausage and continue to cook, breaking up the meat with a wooden spoon, until the sausage is cooked through and lightly browned, about 5 minutes.
Season with the sage and thyme.
Add the chicken broth. Stir until dry. Remove from heat and set aside to cool.
Place the turkey breast on a cutting board, and pound with a meat tenderizer until about 1 cm thick.
Cover all the meat with the bacon slices.
Spread the stuffing over the turkey breast in an even layer, about 0.30 inch ( 6 mm ) thick, leaving a 0.5 inch border all around.

Starting with a short end, roll the turkey into a cylinder.
Tie the roll with kitchen twine with about 1-1/2 inches between each knot.
Roast in a large pot with butter adding salt and ground pepper, about 10 minutes per side.
Pour in chicken broth and cook for about 1 hour and 30 minutes, or until an instant-read thermometer inserted into the thickest part of the roll reads 155°F. ( 70° C )
Remove the turkey from the heat and let it rest.
Cut off the kitchen twine.
Transfer the roll to a cutting board and slice into 1/2-inch thick slices.
Arrange on a serving platter and serve with the sauce cooked this way :
Take gravy formed from turkey, add 2 cups chicken broth and 1/4 cup all-purpose flour.
Cook, stirring occasionally, for about 5 minutes until thickened.
I have never had such a good turkey roll !
Stuffed turkey breast is great for Thanksgiving and Christmas

Serve this dish with your favorite Thanksgiving side dishes like:
Mashed Sweet Potatoes

Roasted Pumpkin Recipe

Recipes for:
Our Italian version of this recipe is here

If you like my recipes you can follow my faceboke page

You can follow me on pinterest by clicking 
 HERE

If you prefer my instagram channel click
Here
(Visited 290 times, 1 visits today)