Dried tomatoes in the air fryer. Are you ready to learn how to prepare sun-dried tomatoes in the air fryer?
I have roasted tomatoes in the oven several times, but using my air fryer is my current favourite way to cook tomatoes.
This is the recipe for making quick baked sun-dried tomatoes.
When you end up with a large quantity of cherry or grape tomatoes, they can get ripe very fast.You don't need to heat the big oven because it takes much longer. You can prepare them in half the time and just as delicious.
I love adding them to a salad or sandwich or in married chicken. When they are cooked in the air fryer, they gain that roasted flavor that gives dishes a special flavor.
I made them even tastier with a little Italian seasoning.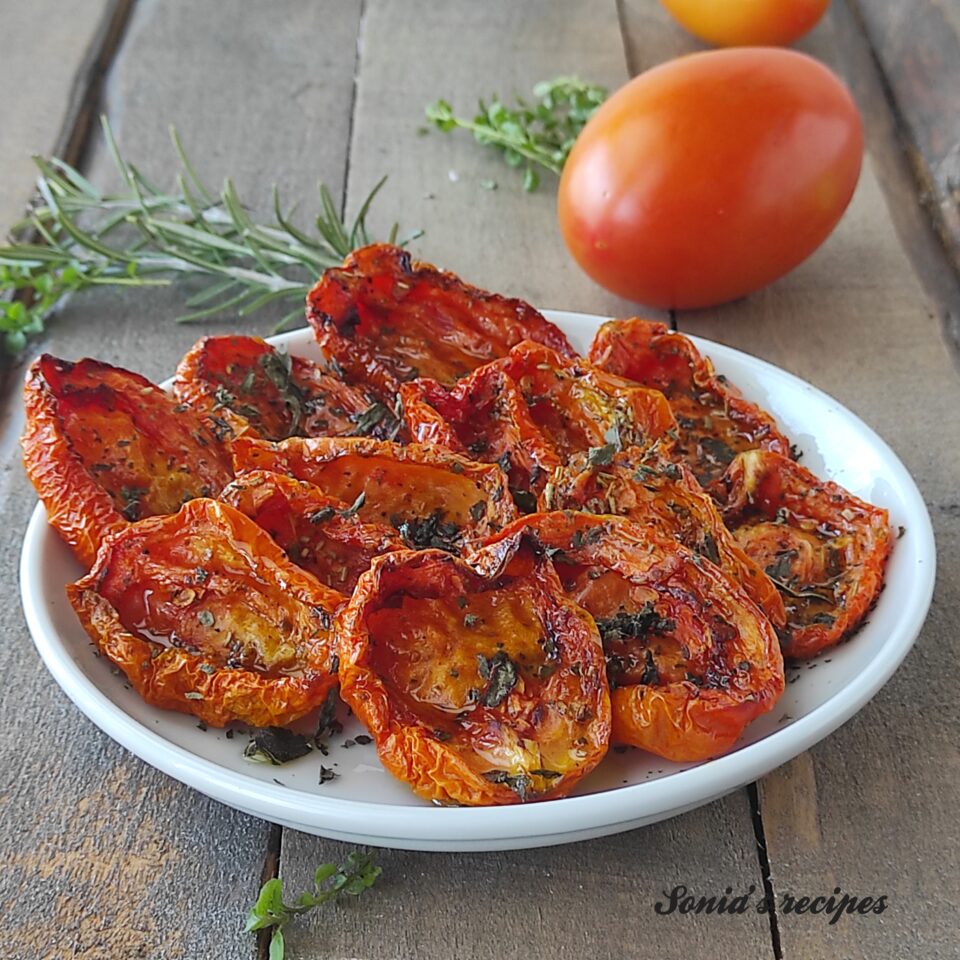 Difficulty

Very easy

Cost

Very cheap

Preparation time

5 Minutes

Cooking time

1 Hour

Serving

5 tomatoes Medium-sized

Cooking method

Air-frying

Cuisine

International

Seasonality

Spring, Summer
Ingredients Dried tomatoes in the air fryer.
14
ounces
tomatoes
(

4 Medium-sized

)
1
teaspoon
spices
(

Italian seasoning

)
Steps Dried tomatoes in the air fryer.
Preheat the Air Fryer to 240℉ for 3 minutes.
Cut each tomato into two pieces.
Remove the inner part of the tomato
Take a glass bowl and insert the tomatoes with the conch facing up.

Add olive oil and a teaspoon of Italian seasoning.
To keep the air fryer bucket clean, use baking paper.
Put the tomatoes in a single layer on the grill pan

Bake for 30 minutes at 240° F ( 115° C )
Now turn the tomatoes over and cook for another 30 minutes. ( keep checking the cooking time every 10 minutes )
The bigger the tomatoes, the longer it takes to dehydrate them. If you use smaller tomatoes, reduce the cooking time.
How to store sun-dried tomatoes?
There are several options for storing sun-dried tomatoes. In all cases, let the tomatoes cool completely before storing them
You can store sun-dried tomatoes in an airtight food container or glass jar. Put additional oil on the tomatoes and seal tightly. They can be stored for up to 3 weeks in the refrigerator.
If stored in the freezer, let the tomatoes freeze on a baking sheet for 2 hours. Remove the baking sheet from the freezer and place them in a bag or food container suitable for freezing. They can be frozen for at least a year.
It uses less energy than an oven to roast tomatoes. It also keeps your house cooler as you are not turning on the oven.
If you like cooking with the air fryer here are my recipes
If you like my recipes you can follow my faceboke page
You can follow me on pinterest by clicking 
If you prefer my instagram channel click
YouTube channel Here
Have you made this recipe? We'd love to hear from you. Leave us a comment below.
(Visited 681 times, 2 visits today)