Easy Savoy Cabbage Pancakes. Savoy cabbage is one of my favourite vegetables and the idea of turning it into savoury pancakes sounded really good.
All-purpose flour is used in this version, but if you prefer, you can use gluten-free flour or almond flour.
It is the perfect dish if you love pancakes but want to try something new and especially savoury.
We all loved the result: crispy but tender and very tasty pancakes. They keep their shape beautifully and keep well for several days in the fridge.
What to serve it with:
It's also delicious served simply like this.
Seasoned with soy sauce or another sauce. These savoury and very tasty Savoy cabbage pancakes can be served with a spicy sauce.
Try also :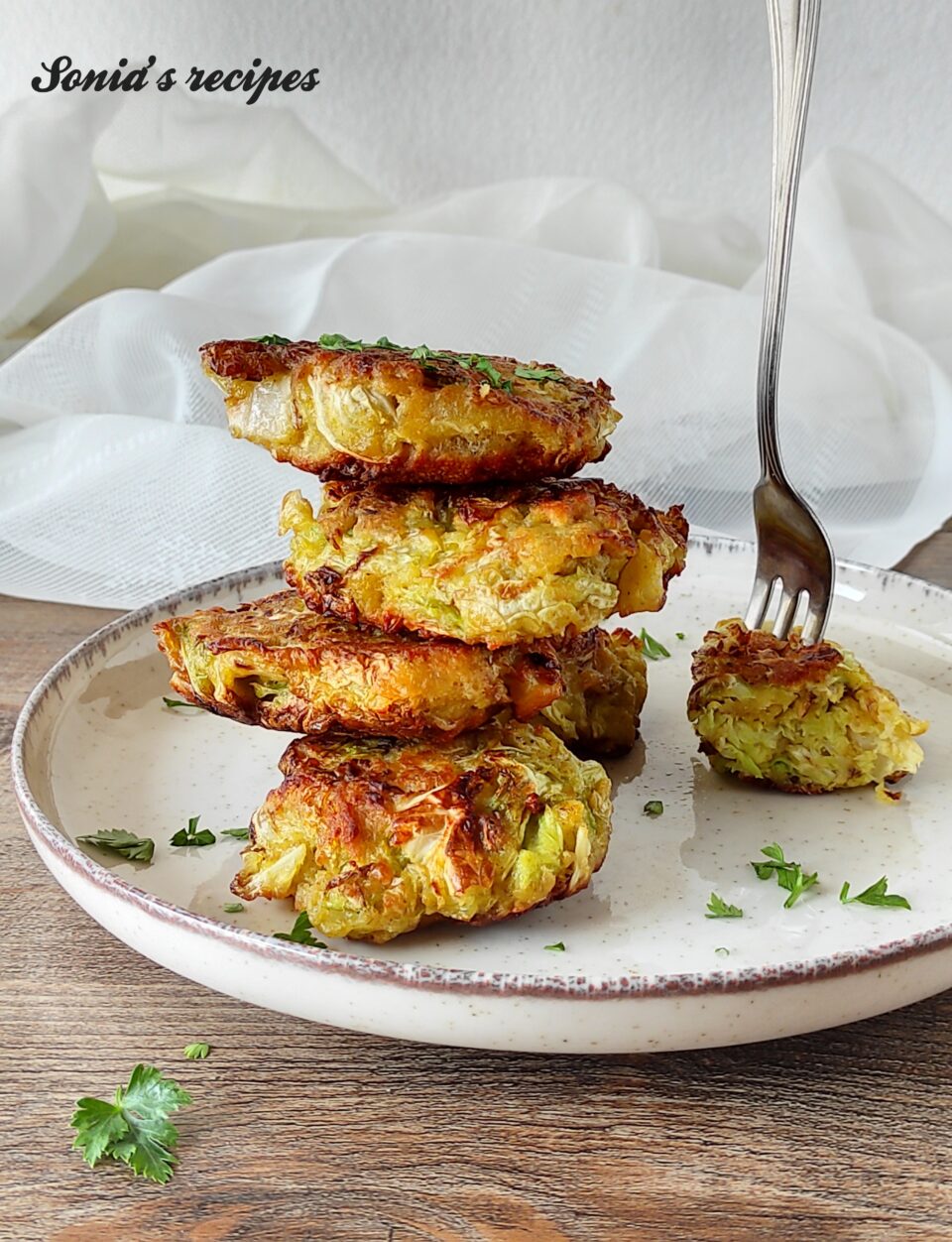 Difficulty

Easy

Cost

Very cheap

Preparation time

10 Minutes

Cooking time

6 Minutes

Serving

10 pieces

Cooking method

Frying

Cuisine

Italian

Seasonality

Winter
Ingredients Easy Savoy Cabbage Pancakes
17
ounces
savoy cabbage
(

500 g

)
1
/
2
teaspoon
black pepper
(

ground

)
Tools Easy Savoy Cabbage Pancakes
Steps Easy Savoy Cabbage Pancakes
This cabbage pancake is absolutely delicious…. Making these Savoy cabbage pancakes is very easy! Here are the basic steps:
Cut the Savoy cabbage into very thin slices.
Finely slice the shallots.
Heat half the amount of olive oil required in the ingredients in a frying pan and add the shallots.
As soon as the shallots take on colour, add the Savoy cabbage and cook while stirring for 8 minutes.
Pour into a large bowl and leave to cool.

As soon as it is cold, add the eggs, pepper, paprika and salt and mix.
Finally add the breadcrumbs, mix thoroughly.

Form a ball with your hands until all the mixture is finished.
Heat the remaining oil in the same pan and place the pancakes in it with the help of a paddle.

Cook the pancakes for 3 minutes, then flip them over and cook for another three minutes.
Drain the pancakes on paper towels.

Serve warm or cold !
These pancakes make a great starter or side dish. They are substantial enough to serve as a main dish without meat, increasing the servings.
Leftovers keep for 3-4 days in the fridge in an airtight container. I reheat them in the microwave or simply chill them. You can also freeze them, separated by squares of greaseproof paper.
If you like my recipes you can follow my faceboke page
You can follow me on pinterest by clicking 
If you prefer my instagram channel click
YouTube channel Here
Have you made this recipe? We'd love to hear from you. Leave us a comment below.
(Visited 322 times, 7 visits today)