Virgin Mojito is a refreshing and thirst-quenching non-alcoholic cocktail, ideal as an aperitif, but also perfect to enjoy at any time of day. If you are nondrinker or you can't drink alcohol for health reasons, Virgin Mojito is the perfect solution to enjoy the fresh and aromatic taste of the famous Cuban cocktail. The original mojito recipe calls for rum, lime juice, mint, brown sugar and club soda; Virgin mojito recipe includes lemon soda instead of rum, while the other ingredients remain the same.
Virgin Mojito has to be muddled, just like the original cocktail, so that mint leaves could release their flavor. Ice is a guest that can not miss, especially crushed! You can make it with an ice crusher, a food processor or simply muddling ice inside a clean towel with a meat tenderizer. To prepare Virgin Mojito you don't need any bar tools, those you have at home will certainly be fine. Virgin Mojito is a perfectly satisfying drink for summer, perhaps to sip by the sea!
You might also like: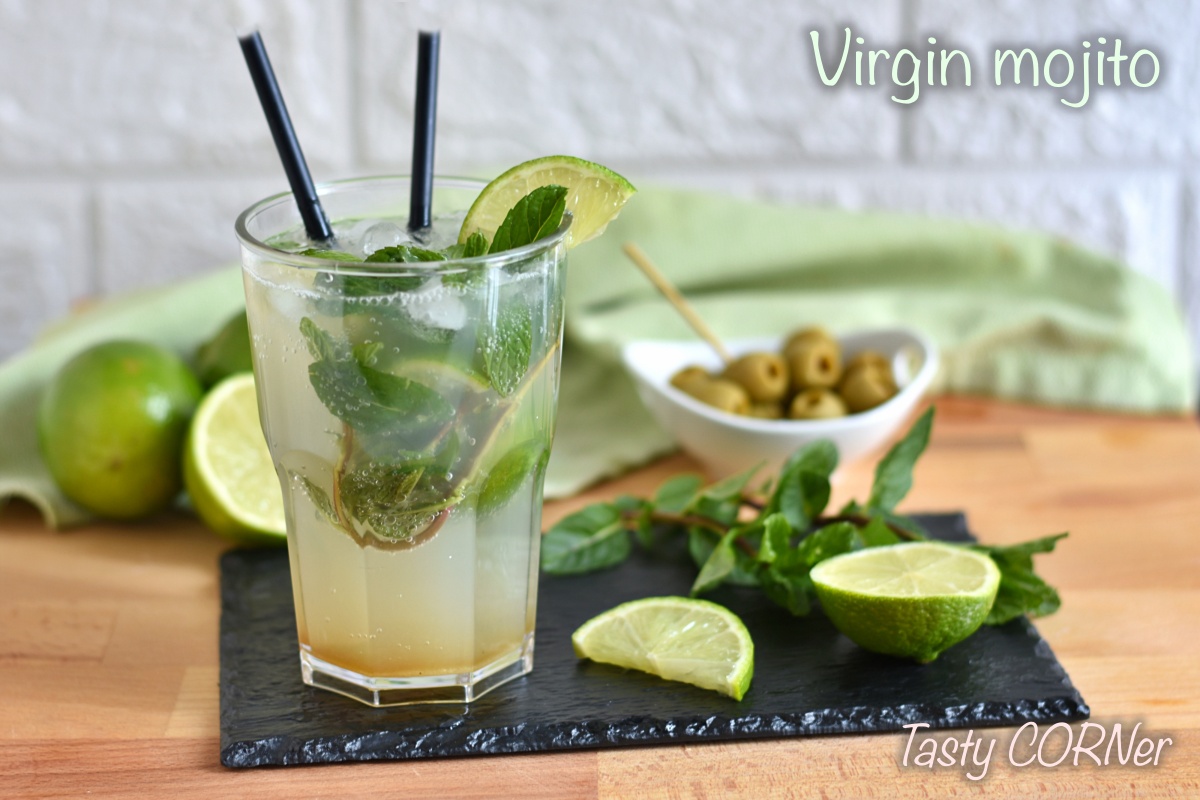 Difficulty

Very easy

Cost

Very cheap

Preparation time

5 Minutes

Serving

1 serving

Cooking method

No cooking

Cuisine

Caribbean

Seasonality

Spring, Summer
Ingredients for Virgin Mojito
For a glass of Virgin Mojito
3
tablespoons
lime juice
(

45 ml -1,6 oz

)
2
teaspoons
brown sugar
(

10 g – 0,3 oz

)
1
/
2
cup
lemon soda
(

115 ml – 4 oz

)
1
/
2
cup
soda
(

club soda; 115 ml – 4 oz

)
99,45 Kcal
calories per serving
Power 99,45 (Kcal)
Carbohydrates 26,06 (g)

of which sugars 22,70 (g)

Proteins 0,51 (g)
Fat 0,07 (g)

of which saturated 0,00 (g)

of which unsaturated 0,02 (g)

Fibers 0,43 (g)
Sodium 40,14 (mg)
How to make Virgin Mojito at home
The first step for making Virgin Mojito at home is to get yourself a glass large enough (about o,6 US pint). Traditional Mojito is served in a tall tumbler (or highball): this is a tall and slightly flared glass which allows the fruit and mint to be dipped in the cocktail until the end.
If you are a Mojito lovers, you will find for sale some full sets for Mojito with tall tumbler, muddler and lime-squeezer. Wash carefully both mint and lime, because they will be dipped in the cocktail. Cut the lime into four wedges. Put brown sugar into the glass and add the freshly squeezed lime juice.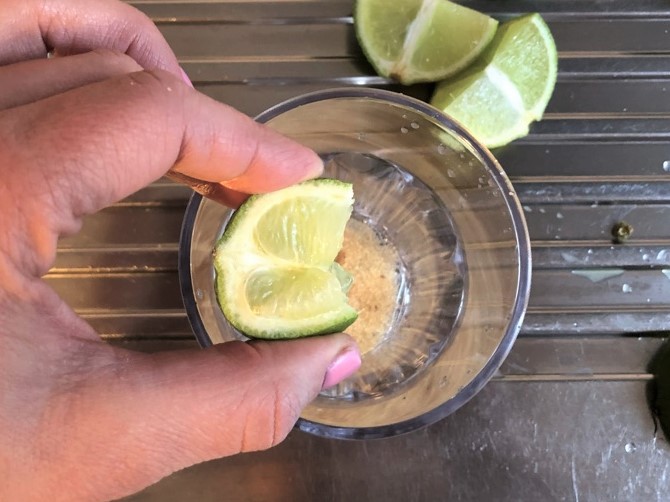 After squeezing it, put in the glass a couple of lime slices and add a sprig of mint too. Muddle vigorously the mint and the lime slices – I used a marble muddler, but there are specific models for cocktails – in order to release theirs flavor.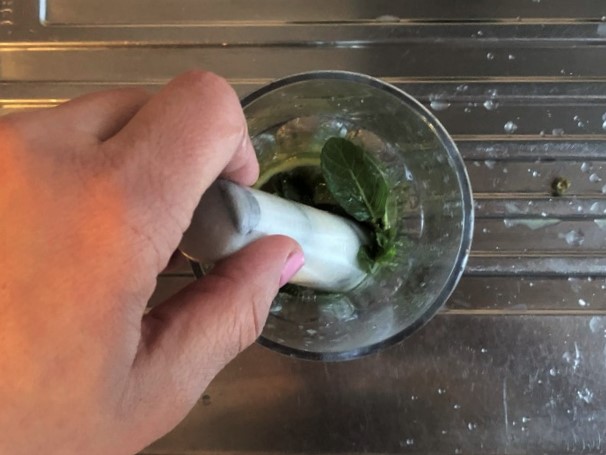 Brown sugar will soak much of their flavor. Don't you have a muddler? Don't worry, you can use the end of a wooden spoon instead.
Now, let's think about ice! It should be crushed, both in Virgin and traditional Mojito. If you have an ice crusher, you'll do it in a snap. Otherwise you can use a blender or a mixer, but be careful not to damage it.
Put inside it four or five ice cubes. Close it and crush the ice, giving little and short pulses, in order to prevent overheating engine. I use a robust food processor and I feel pretty comfortable, but there is risk to break plastic glass with the most fragile models.
An alternative and safe method consists in muddling ice inside a clean towel with a meat tenderizer. Anyway, the result should be a not too finely crushed ice, otherwise it could melt too quickly.
Put crushed ice into the glass and add equally club soda and lemon soda (about 0,5 cup each). Mix with a spoon and garnish Virgin Mojito with a slice of lime and some mint leaves.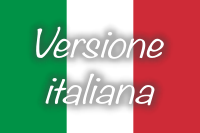 Puoi trovare la versione italiana della ricetta qui!
Tips and variation
If you prefer, you can skip the lemon soda and add tonic water instead.
Virgin Mojito in addition to being very refreshing, it also has excellent digestive power. In fact, you can also serve it at the end of dinner, as if it were a dessert.
Did you know?
The authentic Cuban Mojito has controversial origins, but may date back to the sixteenth century. The cocktail only has gained popularity in the twentieth century, due to some important people who attended the bar "Bodeguita del Medio", known for its mojitos. Among them was Ernest Hemingway, however it seems that his passion for rum-based cocktails was not as strong as it is often told.
Translation by Giacomo Meucci