Fresh, light and thirst-quenching, the watermelon granita is the perfect dessert to keep in the freezer during summer! A fresh watermelon granita is what it takes with these days of heat! All you need are only 2 ingredients and a few hours of rest in freezer: you too can enjoy a thirst-quenching and delicious watermelon granita. Watermelon granita is a recipe suitable for everyone, because you do not need special tools: it only requires a blender (or a mixer) and some ice trays.
Watermelon is one of the best refreshing fruit, especially when it's so warm; the watermelon lends itself well to be processed in granita, due to its juiciness and natural sweetness. 
Watermelon granita is made only with two ingredients, as I said: watermelon and sugar (the quantity can change according to taste). For example, if the watermelon is very sweet, you can decrease the amount of sugar to 4 o 5 tablespoons. However, taste the mixture before putting it in the freezer and if necessary add more sugar and blend it for a few more seconds.
Watermelon granita can be kept in the freezer for several days, and blended in the quantities you prefer whenever you want.  A dessert ready to serve in the freezer is always handy!
You might also like:
Difficulty

Very easy

Cost

Very cheap

Preparation time

15 Minutes

Rest time

4 Hours

Serving

4 servings

Cooking method

No cooking

Cuisine

Italian

Seasonality

Summer
Ingredients for 4 glasses of watermelon granita
28
oz
watermelon
(

weighed without peel – 790 g

)
1
/
3
cup
sugar
(

aprox. – 70 g/2,5 oz

)
100,20 Kcal
calories per serving
Power 100,20 (Kcal)
Carbohydrates 25,60 (g)

of which sugars 25,60 (g)

Proteins 0,79 (g)
Fat 0,00 (g)

of which saturated 0,00 (g)

of which unsaturated 0,00 (g)

Fibers 0,40 (g)
Sodium 6,10 (mg)
How to make the 2 ingredients watermelon granita
For a perfect watermelon granita, let's start by cutting the watermelon pulp. Weigh 28 oz of it and remove the seeds. Cut it into cubes and put it in a blender or a mixer.
Add the sugar and blend it for a few seconds, until you get a well-mixed and liquid mixture. Taste it and add a tablespoon or two of sugar if it seems too little sweet. In this case, blend the watermelon granita for a few more seconds.
Spread the mixture into the ice trays. Four ice trays should be enough, but it depends on their capacity. Place them in the freezer for at least 4-5 hours. Times may vary depending on the freezer, so always check  they are properly frozen before removing them from the freezer.
The last step to prepare the watermelon granita must be done just before serving it: put the watermelon ice-cubes in the mixer or blender and blend for 10-15 seconds, until you get a smooth watermelon granita.
Serve the watermelon granita at once; finally, you can add some whipped cream or waffles.
It would be easier with a video recipe, wouldn't it? Well, fear no more, there is one on my YouTube Channel!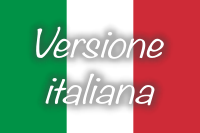 Puoi trovare la versione italiana della ricetta qui!
Tips for a perfect watermelon granita
Once blended, the watermelon granita can be stored in the freezer no longer than an hour before losing the right consistence. For this reason the best thing is blending it just before serving. However, if you have some granita left over and you realize that it has completely frozen in the freezer, just keep it at room temperature for 15-20 minutes. Then fluff it with a fork.
Some original ideas for parties and aperitifs
If you choose to serve the watermelon granita for a party, why not turn it into a delicious long drink? Blend the watermelon ice-cubes with a couple of chilled vodka shots!
Translation by Giacomo Meucci