Cinnamon baked apples are a healthy, genuine and very delicious dessert: soft, fragrant and juicy, baked apples can be served at the end of a meal as they are or, even better and if you are not on a diet, accompanied from a scoop of vanilla ice cream. Autumn has arrived and apples are at the height of their seasonality: in addition to enjoying them as they are, you can indulge yourself in creating lots of apple desserts: among all, cinnamon baked apples are a quick, smart and suitable recipe even if you have to lose weight.
To prepare baked apples, in fact, you can use a lower dose of sugar than the one I used: just a little is enough to encourage the formation of a delicious sauce, because the apples are already sufficiently sweet. In addition, to complete the dessert, I suggest you stuff the apples – which will be cored but left with the skin – with a little raisins; if you don't like it you can still omit it, while in my opinion cinnamon is inevitable, which gives apples a unique aroma. Cinnamon baked apples are excellent both served warm and cold.
You may also like these recipes:
Difficulty

Very easy

Cost

Very cheap

Preparation time

10 Minutes

Cooking time

30 Minutes

Serving

3 servings

Cooking method

Oven

Cuisine

International

Seasonality

Autumn, Winter
Ingredients for baked apples
2
tablespoons
brown sugar
1
teaspoon
cinnamon powder
1
teaspoon
lemon zest
(

grated

)
1
tablespoon
rum
(

optional

)
164,90 Kcal
calories per serving
Power 164,90 (Kcal)
Carbohydrates 39,44 (g)

of which sugars 26,25 (g)

Proteins 0,77 (g)
Fat 0,33 (g)

of which saturated 0,02 (g)

of which unsaturated 0,02 (g)

Fibers 5,80 (g)
Sodium 8,07 (mg)
How to prepare cinnamon baked apples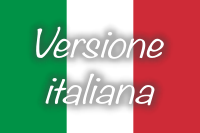 Puoi trovare la versione italiana della ricetta qui!
To prepare the cinnamon baked apples, start by soaking the raisins – if you wish to use them – in warm water mixed with a spoonful of rum. Soak it for about ten minutes.
Meanwhile wash and dry the apples. I cook them with all the peel, because I have seen that apples cooked in the oven with the peel are more consistent. If you don't love it, you can take it off. Use a core remover, if you have it, which will allow you to remove the core of apples easily.
If you don't have it, you can get the same result using a sharp knife, with which you will cut into the center of the apple, and then remove the core slowly. Once the core has been removed, keep the apples aside.
In a small bowl, mix the brown sugar with the cinnamon. Grate the zest of half a lemon, being careful not to damage the white part which would be bitter. Add the lemon zest to the sugar and cinnamon and mix well.
Take an ovenproof dish large enough to hold the apples so that they stand close together and do not overturn (I used an 7 inch diameter one for 3 apples). Cover it with parchment paper and put the apples in it.
With a teaspoon distribute half of the sugar and cinnamon mix both inside the apples and on the surface.
Drain the raisins and distribute them for the most part inside the apples and some grains also on the bottom and on the surface. Complete with the remaining sugar and cinnamon.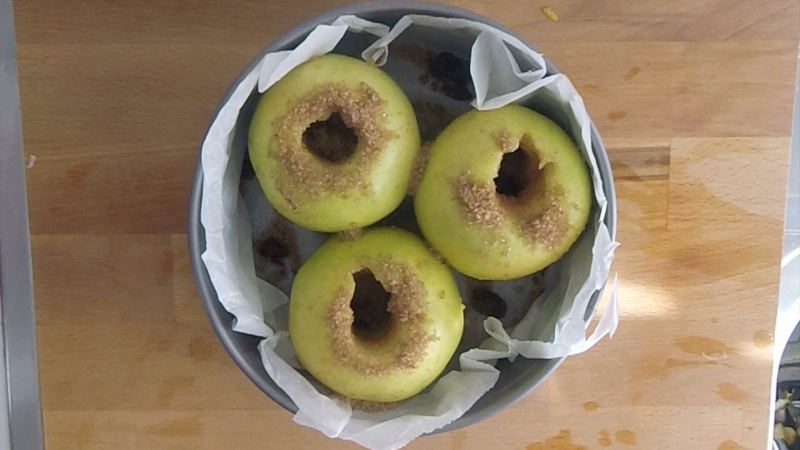 Bake the cinnamon apples in a preheated static oven at 392 °F (200 ° C) for about 30 minutes. At the end of cooking the apples must be soft and have released abundant sauce on the bottom.
Serve the cinnamon baked apples warm or cold, alone or garnished with vanilla ice cream.
How to store baked apples
Baked apples can be stored in the refrigerator for a couple of days, closed in a glass container.
Tips and variartions
If you like them, you can also add a tablespoon or two of pine nuts or other chopped dried fruit to the raisins: walnuts, almonds, pecans …
You can also flavor cooked apples with other spices, such as cloves or star anise.
In addition to the Golden apples, the Rennnet also lend themselves well to being baked in the oven.