OCTOPUS and POTATO SALAD italian recipe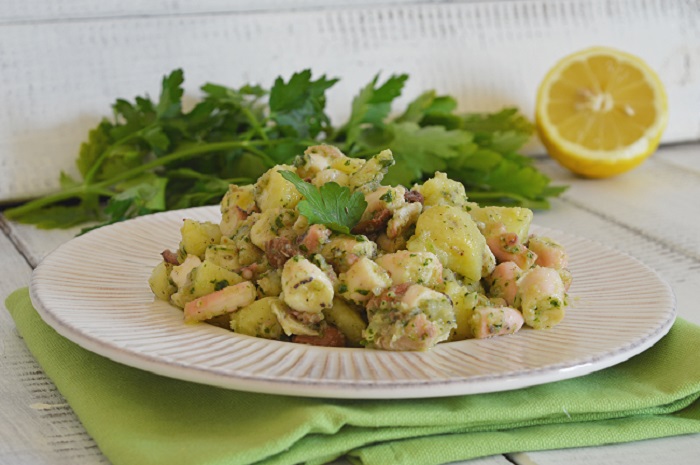 Finally a soft octopus that melts in your mouth.

One of my favorite dishes is the octopus salad with potatoes.

A classic appetizer that is also an excellent single dish.

It is not always easy to get soft meat.

When I was a child my father fished them and threw them on a rock to make them soft!

But now I have Slow cooker and haven't worry about strange tricks.

Just put all the ingredients in the pot and wait for the cooking time to run out.

The result will be above your expectations !!!!

OCTOPUS and POTATO SALAD italian recipe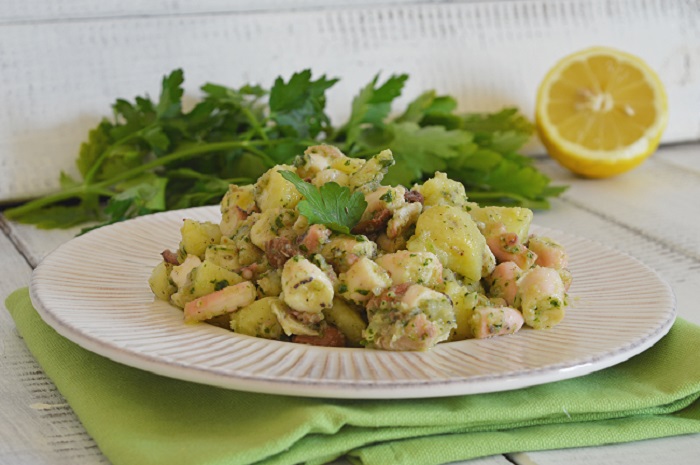 Difficulty

Easy

Cost

Medium

Preparation time

10 Minutes

Cooking time

4 Hours

Serving

4/6 portion

Cuisine

Italian
225,66 Kcal
calories per serving
Power 225,66 (Kcal)
Carbohydrates 23,98 (g)

of which sugars 2,97 (g)

Proteins 17,06 (g)
Fat 7,46 (g)

of which saturated 1,46 (g)

of which unsaturated 1,06 (g)

Fibers 2,81 (g)
Sodium 392,90 (mg)
Ingredients
Dressing
3

tablespoons

extra-virgin olive oil

q.s.

black pepper

(powder)

1

sprig

parsley

(fresh and chopped)
Preparation
Octopus cleaning
If you have purchased a fresh octopus, the first thing to do is clean it.

Remove the pouch located in the head, remove the eyes with the tip of a knife and also the central tooth located in the head.

Rinse well under running water.

If you buy frozen octopus, the only thing you need to do is defrost it.
Octopus and potatoes cooking
Lightly grease the pot of your slow cooker and put the octopus inside.

I prefer to cook the potatoes separately in the pressure cooker (5 minutes) because they remain a beautiful white.

To give more flavor you can add olives and bay leaves.

Absolutely do not add any liquid!

Turn on the slow cooker in HIGH mode and set the time to 4 hours.

Meanwhile, cook the potatoes.
Preparing octopus and potato salad
Once the octopus is cooked, open the lid of the pot and let it cool in its water.

Then extract and rinse under water to remove gelatin.

Meanwhile, the potatoes will also be cooked. Peel and cut into pieces of about 2 cm, do the same with the octopus.

Separately, in a bowl, prepare an emulsion with oil, lemon juice, chopped parsley, salt and pepper.

Transfer the octopus and potatoes to a salad bowl and season with the emulsion.

Serve the octopus salad warm or at room temperature.
NOTE
You can add half a glass of white wine, a few chopped tomatoes and a clove of garlic while cooking for a more intense flavor.
to finish on a sweet note, try the Recipe TIRAMISU cake