Tzatziki sauce is the famous Greek yogurt and cucumber dip, often used to accompany grilled meat and fish, in gyros, but also enjoyed alone with bread or pita. Light and delicate, the tzatziki sauce is a refreshing dip, and also a mix of precious ingredients for the beauty of our skin.
In the original Greek recipe for tzatziki sauce, there is also quite a lot of garlic; if you do not love it or if you digest it with difficulty, I advise you to halve the doses and, in any case, to eliminate the central part, more indigestible, before crushing it. In order for your tzatziki sauce to have the right creamy consistency, it is important to squeeze the cucumbers well after grating them, so that they lose some of the vegetable water.
There are many variations of the tzatziki sauce, because a similar recipe is also used in Bulgarian and Iraqi cuisine; Greek yogurt, however, is irreplaceable; it is denser than regular yogurt and has an intense flavor. You can use both the whole and the lean one, which saves you some calories if you are on a diet. Another important ingredient is fresh dill, which is not always easy to find on sale: if you can't find it, you can replace it with a few mint leaves.
Check out these recipes too: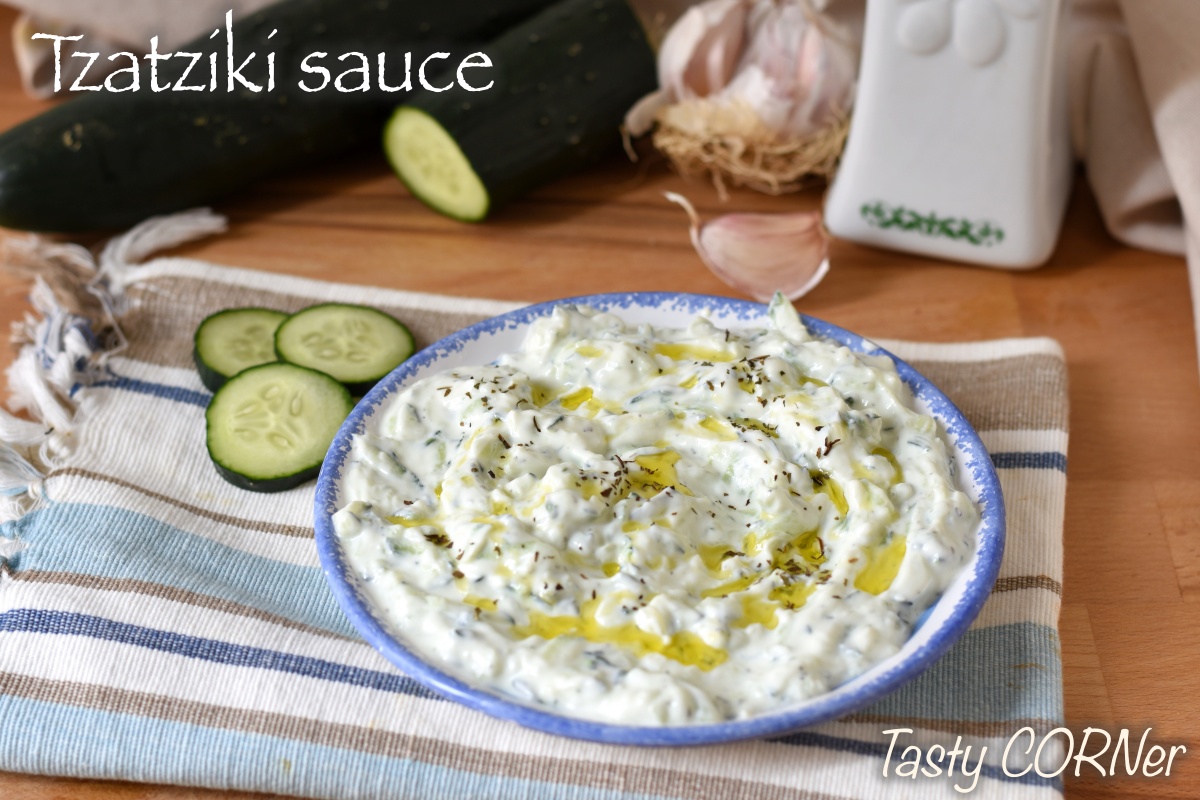 Difficulty

Very easy

Cost

Very cheap

Preparation time

15 Minutes

Rest time

1 Hour 30 Minutes

Serving

4 servings

Cooking method

No cooking

Cuisine

Greek

Seasonality

Spring, Summer
Ingredients for the authentic Greek tzatziki sauce
1
1
/
2
cup
greek yogurt
(

340 g – 12 oz

)
1
cucumber
(

aprox 260 g – 9 oz

)
3
tablespoons
extra-virgin olive oil
1
tablespoon
white wine vinegar
173,89 Kcal
calories per serving
Power 173,89 (Kcal)
Carbohydrates 11,63 (g)

of which sugars 8,61 (g)

Proteins 7,10 (g)
Fat 11,76 (g)

of which saturated 3,45 (g)

of which unsaturated 0,04 (g)

Fibers 0,90 (g)
Sodium 126,62 (mg)
Tools
1
Grater
with large holes
1
Pot
or other weight for squeezing cucumbers
1
Mortar
with pestle
or
1
Small bowl
with a teaspoon
How to prepare tzatziki sauce according to the original Greek recipe
To prepare the tzatziki sauce, wash the cucumber, remove the tips and grate it with all the peel with a grater with large holes . Put it in a stainer, overlap a weight like a pot full of water and let it drain for about 30 minutes; after the time has elapsed, squeeze it with the help of a spoon or with your hands, so that it loses all the vegetation water.
Peel the garlic, open each clove in half and remove the central part, then crush it with a garlic press making it fall back into a mortar. Pound it well, until it is almost creamy.
If you don't have a garlic press, you can chop it very finely with a knife, while the mortar and pestle can be replaced by a bowl and a teaspoon. Add a spoon of the yogurt provided by the recipe to the crushed garlic and mix so as to incorporate all the garlic.
In a bowl, mix the remaining Greek yogurt with the one you added the garlic to. Also add the grated cucumbers.
Mix them with the yogurt. Add the oil (one tablespoon at a time) and mix to incorporate it into the sauce. Do the same with the vinegar; season with salt and also add the chopped fresh dill.
Mix well, until you obtain a homogeneous tzatziki sauce which you will put to rest in the refrigerator for about an hour.
You can serve the tzatziki sauce on bread or as a side dish for: grilled meat, grilled fish, cooked or raw vegetables
How to store tzatziki
You can keep the Greek tzatziki sauce in a glass jar in the refrigerator for 2 or 3 days.
Dishes that go perfect with the Greek tzatziki sauce
In Greece, tzatziki sauce is often served alone, as an appetizer, garnished with a few Greek olives. It is used a lot as a dip for souvlaki, the famous skewers of meat or fish, or spread on pita, the traditional Greek bread. Having a delicate taste it can be combined with many flavors, used as a dip for all types of raw vegetables or for french fries, as a dressing for chicken salad, or to accompany grilled aubergines, dried meat or bresaola.