Ritz&Mochi : a flavor that sneaks up on you, and makes you fall in love with its unexpected combination.
Salty (Ritz), Gooey (Mochi) with a hint of fresh Orange. The simple execution of this cake is a plus, its taste….priceless. Rich, firm but soft, with a mouthfeel that is super fudgy. Hence, it elevates this from cake to torte. Give it a try.
Difficulty

Very easy

Cost

Medium

Preparation time

45 Minutes

Cooking time

1 Hour

Serving

12

Cooking method

Oven

Cuisine

American
Ingredients
2
1
/
2
cups
sugar
(

divided

)
2
teaspoons
baking powder
1
teaspoon
vanilla extract
Tools
1 Spring form pan of 9″ diameter
Steps
Torte Batter
PRE HEAT oven to 350F
1- mix ½ C of the sugar with the cocoa and the hot water. Set aside. In a separate bowl, mix the Ritz crackers flour
and Mochi flour with the baking powder. Set aside.
2- in the bowl of a stand up mixer, fitted with the whisk attachment, place the remaining sugar (2C), oil, vanilla and
whisk on medium for about 3 minutes.
3-add the eggs and whip on high for about 5 minutes.
4-alternatively add the flour mix and milk, whisking.
5- make sure the batter doesn't have lumps of sugar on the bottom. Use a spatula.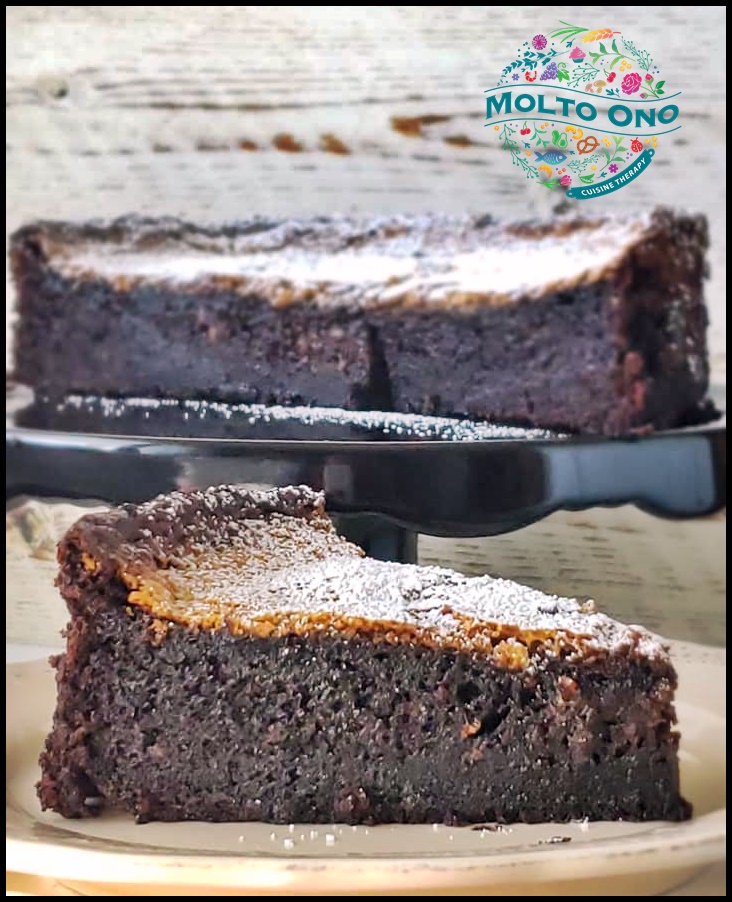 6-butter and coat with Ritz powder the springform pan. Toss excess crumbs by flipping the pan.
7-mix chocolate butter and crackers one and pour into the pan and shake to level off .
8-Place on the bottom rack and bake for 45 minutes
9-Move to the top rack and activate the convection mode for 10 more minutes
Test the center of the Torte for doneness (about 200F on a probe thermometer ) if below that temperature bake in 5"
increments.
Cool at room temperature for about 20 minutes then in the refrigerator for 2hours.
Dust with powder sugar before serving.
Keeps for about 3 days, covered and refrigerated.