Of my many Christmases in Italy, what I remember most vividly, is the citrusy scent of fresh Tangerines: so inebriating! Who would have known that, half a century later, my life in Hawai'i would include my own Tangerine tree? This recipe has been tested over the Holidays for the last 16 years! While she never met anyone who didn't like her, over this last decade I implemented some minor changes, too. The result is a moist, soft, divine sweet Tangerine Cranberry loaf (or 6 minis). A little bit pound cake (if you let it rest a day), a little bit poke cake (because of the Grand Marnier glaze) and a whole lot of yumminess because……it's the holiday season!
Try it and let me know.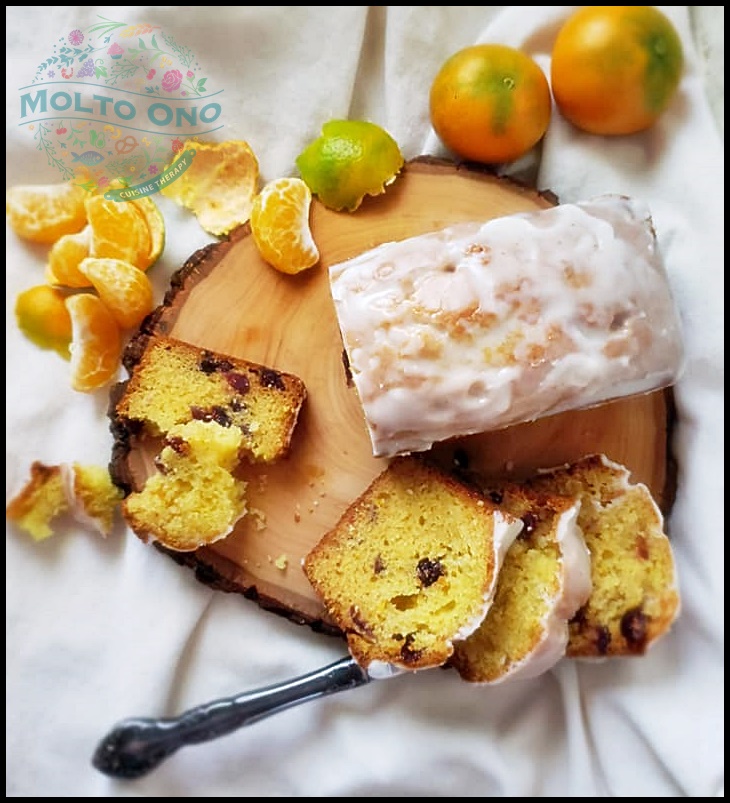 Ingredients
A few quick notes before you get started:
1- You can use Orange or Grapefruit or a mix of citruses in the same quantities (zest and juice)
2- If you don't have sour cream, use vanilla flavored yogurt
3- No need to soak the cranberries if not totally dry but somewhat soft
4- For a PG13 version skip the Grand Marnier and use citrus juice for the glaze. Still good.
12

ounces

butter

(Unsalted~ 3 sticks)

1

cup

Fresh Juice

(From Tangerines or any citrus)

1

cup

sour cream

(full fat)

2

tablespoons

Freshly grated zest

(From Tangerine or other citruses)

2

teaspoons

vanilla extract

4

cups

all purpose (AP) flour
Glaze
2

cups

powdered cane sugar

1

/

2

cup

grand Marnier

(Or Triple Sec or Juice)
Directions:
Pre heat oven to 330 F

Juice and zest the citruses

Grease 6 mini loaf pans or one large (11″x6″)

With an electric mixer, cream the butter, sugar and zest together.

Mix until light and fluffy.

Add the eggs one at a time, incorporating after each addition.

Add orange juice, sour cream, and vanilla.

Blend until mixed, don't worry if you see some curds, they will disappear while baking.

Add the dry ingredients and fold in by hand taking care of incorporating the juices that tend to sit on the bottom of the bowl.

Do not overmix.

Divide butter equally into the prepared pans.

Bake until a toothpick inserted in the center come out clean: about 50 to 60 min for mini loaves and 75 for large one.

Let cool loaves in the pan for 10 Min after baking.

Meanwhile prepare the glaze and mix the two ingredients.

With a think skewer poke deep holes into the loaves and drizzle with glaze.

Cool completely before cutting.

Also the loaves taste better the following day.