Warm, thick, creamy … Italian chickpea and pasta soup is one of the comfort-foods I love most during the autumn or winter season. Although here in Italy it never gets very cold, pasta and chickpea soup is still one of the dishes I prepare most often, especially when I come home in the evening after a rainy or gloomy day. Nothing cheers me up like a good plate of "pasta e ceci". Moreover, preparing the Italian chickpea and pasta soup doesn't even take that long, especially if you use canned chickpeas: in about 30 minutes your soup is ready to be enjoyed.
To prepare the authentic Italian chickpea and pasta soup – dense, creamy and tasty as you can eat for example in Tuscany – you will need a few simple ingredients: chickpeas, of course, small pasta such as tubettini (short ziti), a little tomato puree and some aromas that are often used in Italian cuisine, such as garlic, onion, carrot, celery and, in particular, rosemary. The secret to obtaining a thick and creamy chickpeas and pasta soup is to blend a part of chickpeas just before adding the pasta to the soup. It is also very important to cook the pasta directly in the soup, because the starch contained in it helps to make the soup itself thicker. If you don't have tubetti you can use another type of small pasta: maccaroni or even spaghetti, after breaking them into small parts.
You may also like: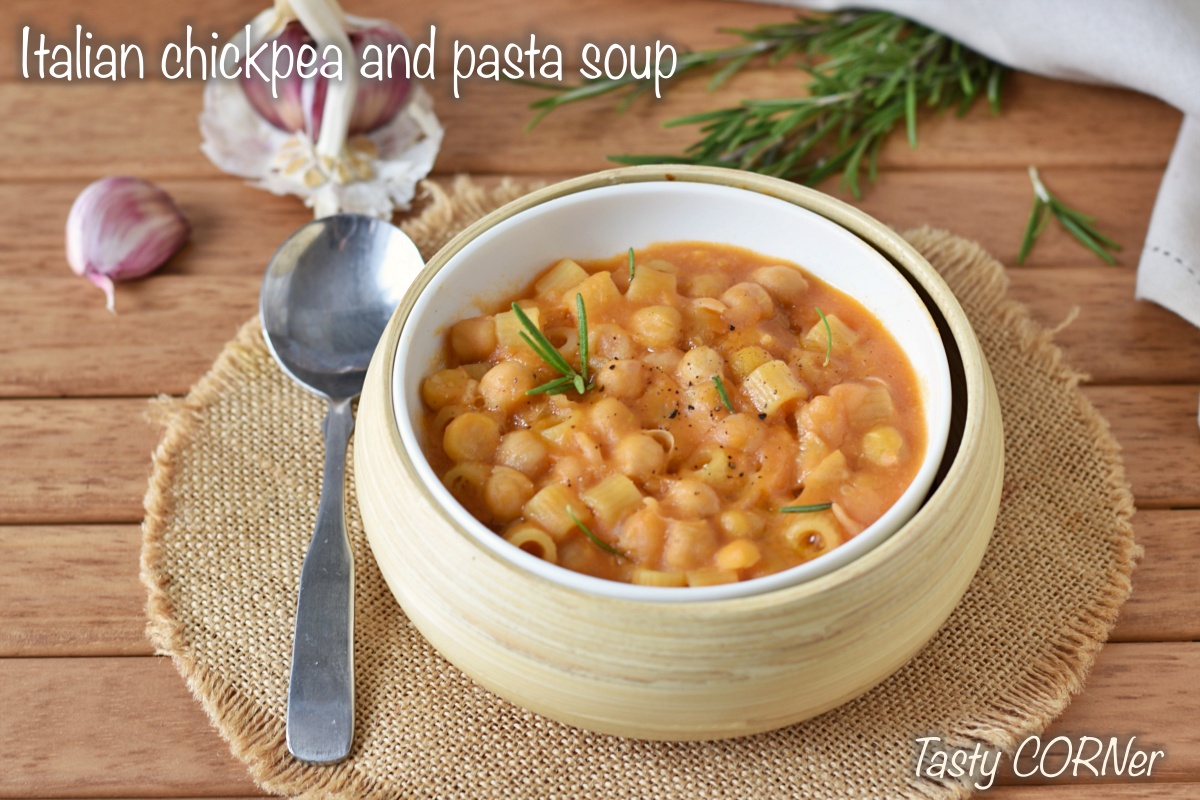 Difficulty

Very easy

Cost

Very cheap

Preparation time

10 Minutes

Cooking time

30 Minutes

Serving

4 servings

Cooking method

Stove

Cuisine

Italian

Seasonality

Autumn, Winter
Ingredients for the Italian chickpea and pasta soup
17
oz
canned chickpeas
(

500 g

)
5.6
oz
pasta
(

160 g – tubetti, maccaroni etc.

)
5
oz
tomato puree
(

150 g

)
4
tablespoons
extra-virgin olive oil
Classic recipe for the Italian chickpea and pasta soup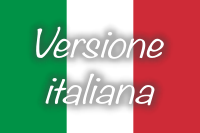 Qui puoi leggere la ricetta in italiano!
To prepare Italian chickpeas and pasta soup, start by chopping the onion, celery and carrot very finely. In a saucepan, sauté them together with the peeled garlic clove, over very low heat.
When the onion has become almost transparent add the boiled chickpeas together with a pinch of salt.
Wet them immediately with 2 or 3 ladles of hot vegetable broth. Also add the tomato puree.
Cover the pot with the lid, but leave a small opening – you can put a wooden spoon between the pot and the lid – and cook over low heat for about 20 minutes, adding a little more hot broth if needed.
Once the cooking time has elapsed, track down the garlic and discard it. Then take about 1/3 of the chickpeas with a ladle together with a little of the soup and transfer them to a bowl. Blend with the immersion blender until you get a homogeneous cream.
Pour the chickpea cream back into the pot and mix the soup well, which will immediately become creamy. Season with salt, pepper and add the chopped rosemary.
Bring the chickpea soup back to the boil and add the pasta, taking care to mix it often, otherwise it could stick to the bottom of the pot; in general, pasta cooked directly in the soup takes a few more minutes to cook, however it is advisable to taste it often towards the end of cooking.
During cooking, if you see that the soup shrinks excessively, you can add a little more water or hot broth, but little by little so as not to overly dilute the soup. When the pasta is cooked, turn off the heat, cover the pan and let the pasta and chickpeas rest for about a minute.
Serve the Italian chickpea and pasta soup garnished with a drizzle of extra virgin olive oil, a sprinkle of pepper and a few needles of rosemary.
Tips and variations
With this recipe of pasta and chickpeas you get a fairly narrow soup; depending on the taste, chickpeas and pasta soup can be diluted more.
This recipe is also suitable for vegetarians, but if you want an even tastier dish you can add a piece of bacon or lard to the initial sauté.
If you like, you can serve Italian chickpea and pasta soup garnished with a little grated Parmesan.