The Olivette di St. Agata (Agatha in English) are an almond flour-olive shaped-treats from Catania, Sicily. They are usually made around the first week of February which coincides with the anniversary of the death of the Saint on Feb 5th.
St. Agata was 20 years old when she died during the Christian prosecutions during the Roman Empire. Her death was gruesome and quite a lengthy process since numerous miracles happened to almost prevented that . Her passing, however, left us with culinary treasures still baked all over Italy.
The Olivette are no exception.
The story goes that while St. Agata was running away from the Romans who wanted to arrest her, she briefly stopped to catch her breath and tie a shoe. Miraculously, an olive tree sprung at her feet, sheltering her with its foliage. The men who chased here could not see her, and she was able to escape.
Unfortunately that is not how the story ended, but I will save that for another dessert inspired by the one and only St. Agata.
So, are you ready to make some sweet Olives?
Note: for the coloring I used a Pandan Extract. Pandan is a tropical plant that grows abundantly here in Hawaii, and its leaves have been used over the centuries to make a bright green extract that tastes like a fruity green vanilla.
If you cannot find Pandan extract or powder, you can use food coloring or Matcha green tea powder but the flavor will be slightly more bitter.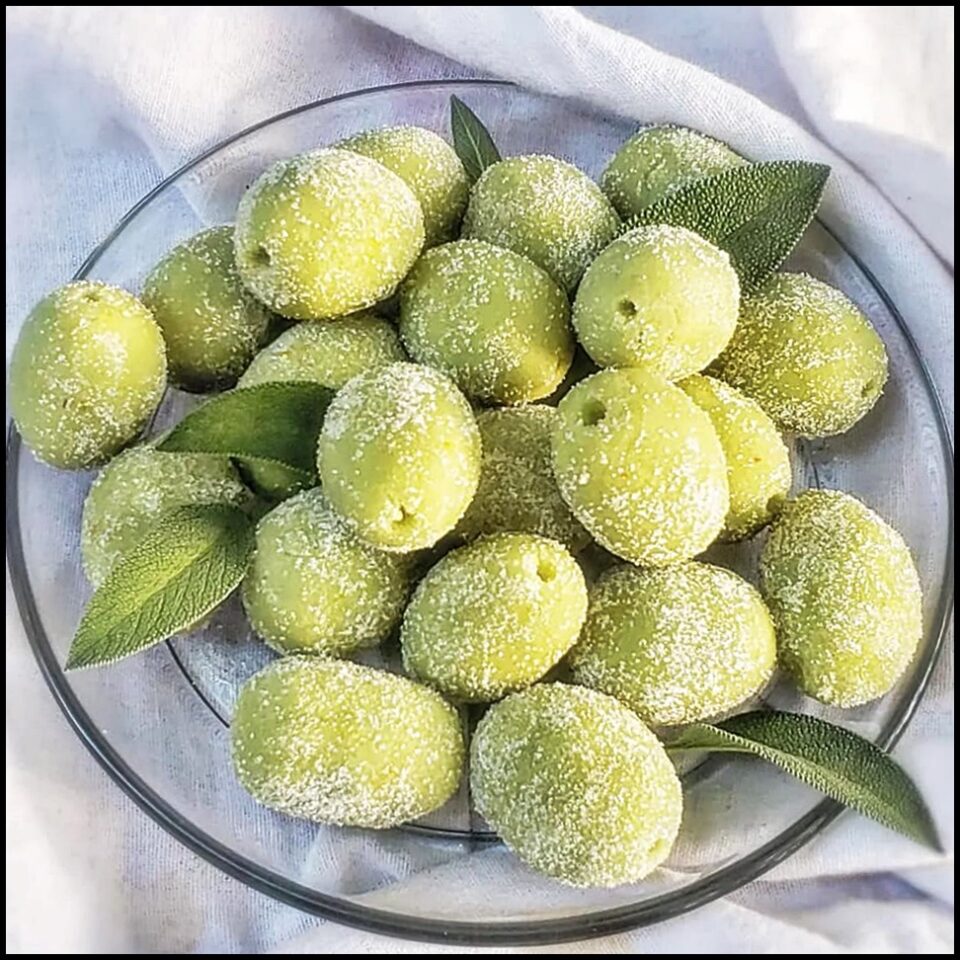 Difficulty

Easy

Cost

Medium

Preparation time

30 Minutes

Cooking time

15 Minutes

Serving

12

Cuisine

Italian
Ingredients
For the Almond paste
2
tablespoons
maraschino flavouring
(

from a jar of cherries

)
Sugar coating
granulated sugar
(

as needed

)
Tools
1 large casserole
1 silicone spatula
1 large board or countertop for shaping the Olivette di St. Agata
Steps
Make the almond dough
The Olivette di St. Agata are extremely easy to make, the only tricky part is to cook the dough until is just right and not too runny. See pictures below. Also, I like to keep it very natural using only natural powders and not chemical food coloring.
Here are the 10 easy steps:
1- In a large casserole cook the sugar, salt and water over a medium heat until the sugar has dissolved.
2- Incorporate the almond flour and the Pandan and stir with a silicone spatula.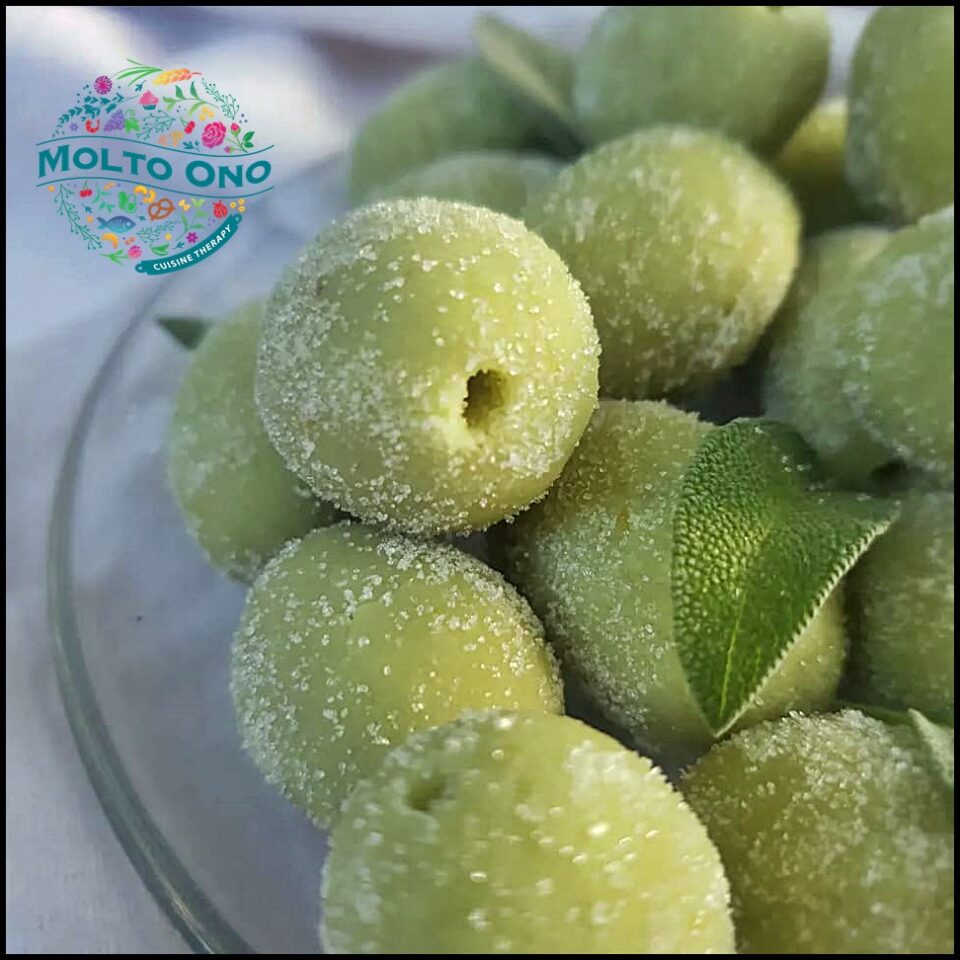 3- You will see that the batter turns into a dough after about 7 minutes.
4- Add the Maraschino one tablespoon at a time and keep stirring.
5- After about 10 minutes add the vanilla, always on medium or low heat the dough will detach from the pan like in the picture below.
6- Immediately transfer it to a flat surface. ATTENTION the dough is HOT! Let it cool down for a few minutes but cover it with a wet towel or it will dry.
7- When the dough has cooled enough that you can handle it, shape it into a long rope. Cut little pillows of about 1 tbs each and roll them in the palm of your hand until they look like olives.
8- Poke a hole with a skewer on one end, if you like
9- Coat with granulated sugar and repeat with the rest of the dough.
10-Mangia!
Keep the Olivette di St. Agata covered in a tight sealed container in the refrigerator.