If you have been to Philadelphia, you will be familiar with its famous Chocolate covered onions. Well, I didn't go that far as using raw onions, but rather a cooked, caramelized one. The combination is excellent!, the flavor blends in beautifully and tastes better the day after it's baked. So, if you are willing to try something new for Halloween, here is a treat for you: Chocolate and onion bread. Not a trick.
Its round and rich flavor makes it ideal for cheese sandwiches. Give it a try!
Also, when fresh, makes a fabulous pull apart bread.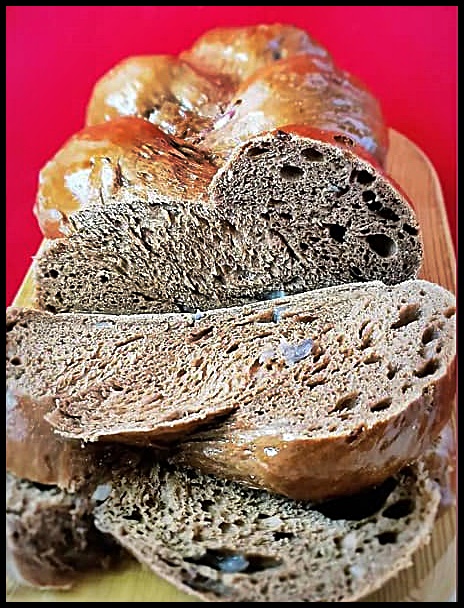 BREAD DOUGH
You could use either a sweet Maui / Walla Walla onion, a red one or the equivalent in shallots.
2

tablespoons

Drinking cocoa

(Use a good quality one or dutch processed. Do not use bitter cocoa.)

3

tablespoons

butter

(always unsalted, good quality)

1

package

dry yeast

(Equivalent to 2 1/4 tsp)

1

cup

Lukewarm water

(USE ONLY what you need)

1

teaspoon

thyme

(fresh, minced)

1

teaspoon

granulated sugar

1

teaspoon

rose

(Fresh Leaves minced)

1

onion

(Fresh, chopped finely)
HONEY GLAZE
4

tablespoons

butter

(unsalted)

1

teaspoon

rosemary

(Fresh, minced)
Preparation
First, prepare the glaze by mixing all the ingredients in a small saucepan, and bring to simmer. Set aside.
Dice the onion and place it in a casserole with 1 T Olive oil. Let cook untouched, until starts to caramelize and has release most of its water. Set aside.

Activate the yeast with the sugar and half of the water in the bowl of a stand up mixer, until bubby.

Add the remaining ingredients ( including the cooled down onion) except for the salt and mix with a dough hook

Mix on medium low until the dough gathers around the hook, about 8 minutes.

Let the dough mix double, about 1 hour. Divide in 3 equal amonts and braide them.

It will be soft, so use extra flour if you have to.

Pre heat oven to 375°.

Just before baking brush the bread with half of the glaze.

Once the bread has grown but not quite doubled (about 80%) place it in the oven and bake for about 25 min or untild done. Use a skewer to test.

Brush with remaining glaze as soon as it comes out of the oven.
Notes:
The bread will taste better the following day, also will be easier to slice. It makes great cheese sandwiches!!!!