The Italian potato gateau with ham and cheese is a savory pie made with mashed potatoes, a typical recipe of Neapolitan cuisine, but also widespread in many other areas of Italy, appreciated for its genuine flavor and the goodness of the ingredients with which it is enriched. The potato gateau, in fact, is one of those so-called "clean-up-your-fridge" recipes, since it can be stuffed with various types of ingredients, even those that are often left over from other preparations.
Rustic and delicious dish, the potato gateau stuffed with ham and cheese is perhaps the most classic choice and one that meets everyone's taste. In any case, instead of ham you can use salami, pepperoni, mortadella, sausage, roast turkey, bacon… there are so many reinterpretations! To make the Italian potato gateau crunchy on the outside and easy to cut, it is essential to butter and coat the pan with breadcrumbs. The potato gateau with ham and cheese should be served hot but not as soon as it has been removed from the oven and, if there is any leftover, it can be kept in the fridge for a couple of days.
You might also like these recipes:
Difficulty

Very easy

Cost

Cheap

Preparation time

30 Minutes

Cooking time

30 Minutes

Serving

6 servings

Cooking method

Oven

Cuisine

Italian

Seasonality

Evergreen
Ingredients for classic Italian potato gateau
If you are gluten intolerant, in addition to using gluten-free breadcrumbs, make sure that the cooked ham also has the wording "gluten-free" on the label.
2
pounds
potatoes
(

about 1 kg

)
3.5
oz
ham
(

sliced; 100 g

)
5
oz
scamorza cheese
(

or mozzarella, provolone…; sliced – 150 g

)
3
tablespoons
parmesan cheese
(

grated

)
1
sprig
parsley
(

chopped

)
2
tablespoons
breadcrumbs
(

gluten-free for me

)
Tools
1
Baking Dish
square, 8×8 inch (21×21 cm)
or
1
Cake pan
round, 9 inch (23 cm)
Classic Italian potato gateau recipe with ham and cheese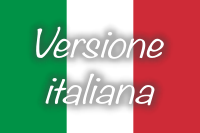 Puoi trovare la versione italiana di questa ricetta qui!
To prepare the Italian potato gateau with ham and cheese, start by washing the potatoes, then boil them whole and in their skins in salted water until tender; keep in mind that for medium-sized potatoes it takes about 40 minutes.
Meanwhile, cut the cheese into slices. Drain the potatoes and let them cool slightly, then peel them and mash them with a potato masher. Add the nutmeg and the parsley after having washed and chopped it.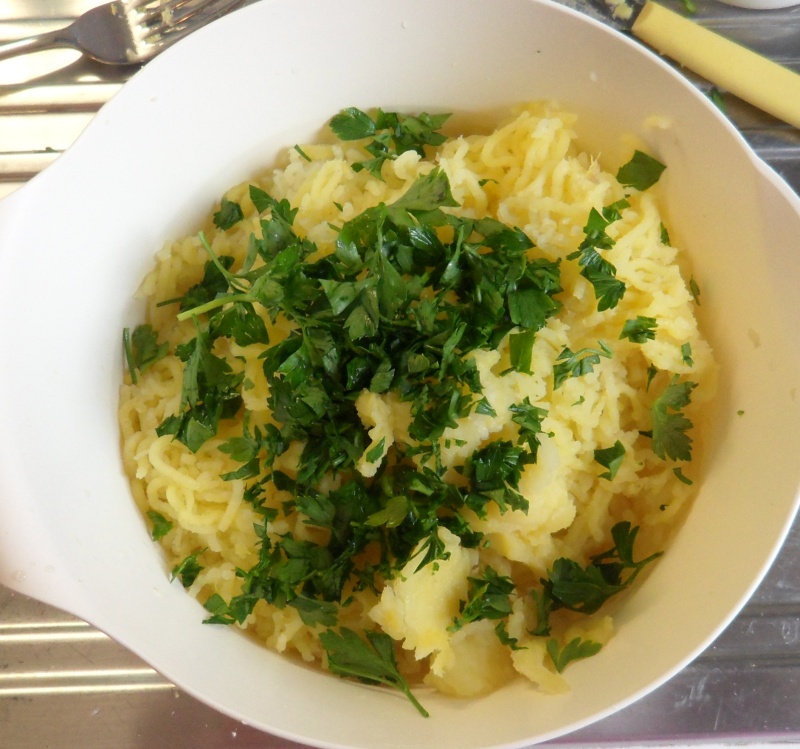 Pour in a couple of tablespoons of milk to soften the mixtur. Start mixing and also add the grated Parmesan. When you have mixed the ingredients, taste and add a little salt if needed.
Finally, add the egg and mix thoroughly to distribute it throughout the dough, until you obtain a soft and malleable mixture.
Once the dough for your potato gateau is ready, butter a baking tray and cover it with breadcrumbs. Distribute half of the potato gateau dough on the bottom and flatten it well with your hands.
Place the slices of ham on top, overlapping them a little, then form a layer of cheese.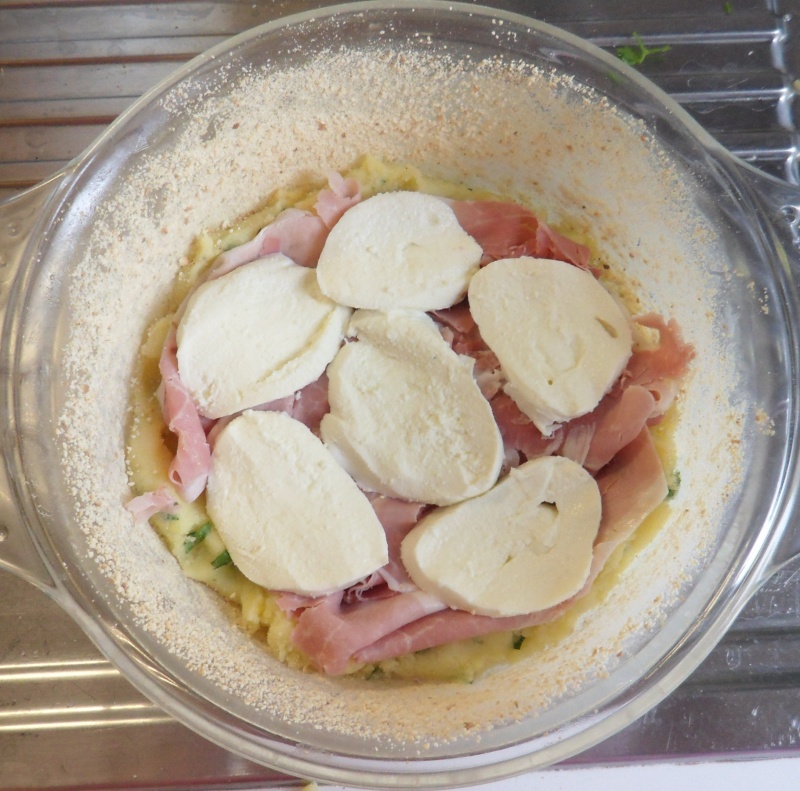 Cover everything with the remaining potato mixture, distributing it evenly and pressing lightly to compact it. Sprinkle the surface of the potato gateau with a spoonful of breadcrumbs and complete with a few small pieces of butter.
Bake the potato gateau in a preheated oven at 392 °F (200 °C) in static mode for 25-30 minutes, until the surface is golden brown. Take it out of the oven and let it cool for 10-15 minutes before serving it.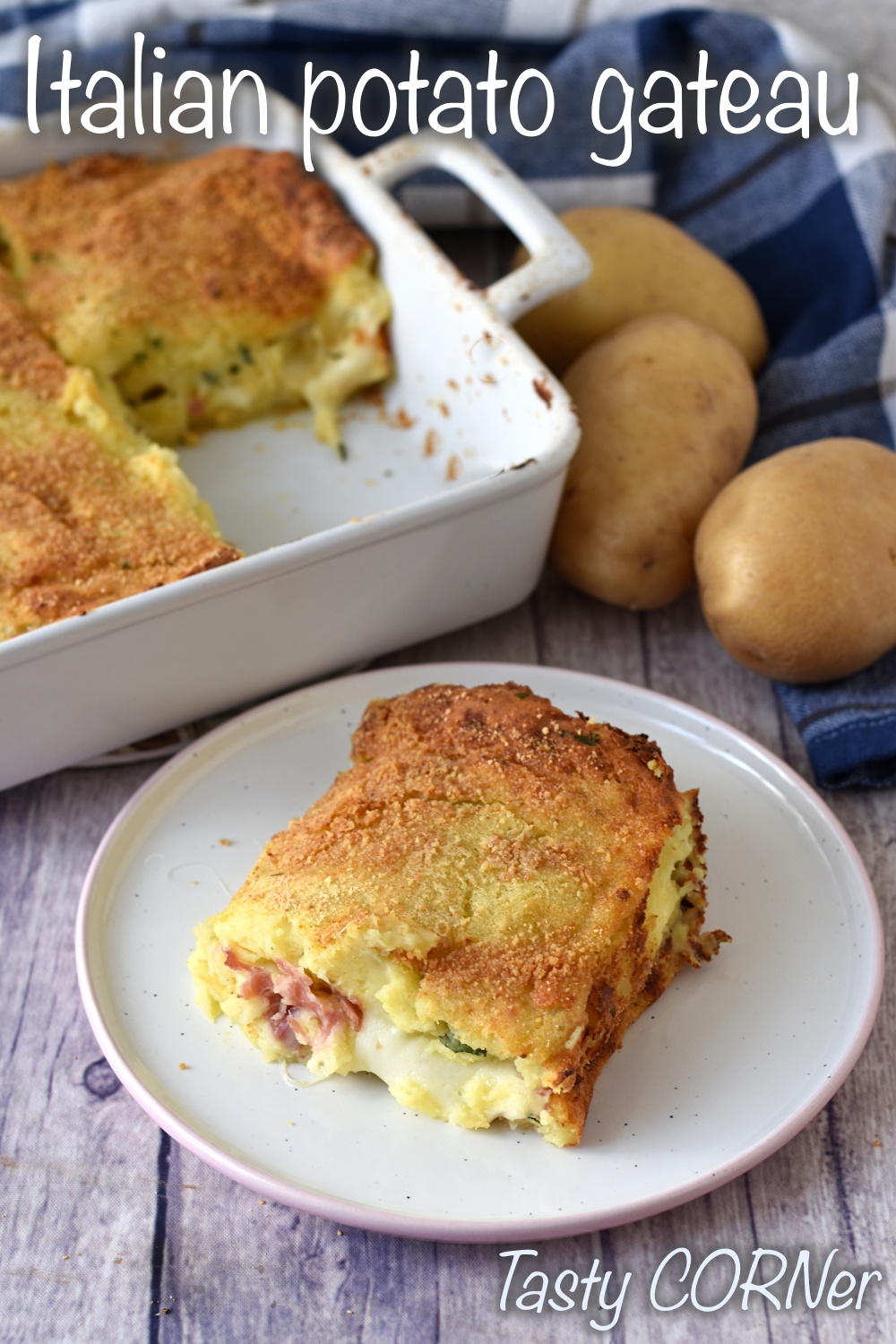 How to store potato gateau
You can keep the potato gateau with ham and cheese in the refrigerator for a couple of days; before serving, heat it briefly in the oven or microwave.
Tips and variations
Like any "clean-up-your-fridge" recipe, Italian potato gateau can undergo countless variations dictated by your tastes or needs. Do you have leftover cooked vegetables? Add them to the mashed potatoes, or use them to form another layer of stuffing. Do you want an even richer and more substantial meal? Stuff the potato gateau with a layer of Bolognese sauce and plenty of cheese!