This easy rainbow sponge cake is a rookie-proof recipe for making a fluffy and colorful cake, that children will especially love. If you have kids, you can ask them to help you prepare this rainbow sponge cake and show them the "magic" of colored concentric circles that basically form by themselves.
To make the easy rainbow sponge cake, you'll just need to prepare one dough, divide it into four bowls and add a little food coloring in powder or gel form to each bowl; then pour the dough a spoon at a time into the baking pan, alternating different colors, and the optical effect is done! You can serve the rainbow sponge cake as it is, or garnished with whipped cream and some colored sprinkles.
You might also like:
Difficulty

Very easy

Cost

Very cheap

Preparation time

15 Minutes

Cooking time

45 Minutes

Serving

8 servings

Cooking method

Oven

Cuisine

Italian
Ingredients for 8 inch rainbow sponge cake
2
1
/
2
cups
all purpose (AP) flour
(

300 g – 10,5 oz

)
3
/
4
cup
sugar
(

150 g – 5,3 oz

)
1
/
2
cup
sunflower oil
(

85 g – 3 oz

)
2
teaspoons
baking powder
(

10 g

)
1
/
3
cup
water
(

80 g – 2,8 oz

)
q.s.
food colors
(

blue, green and red

)
1
teaspoon
lemon zest
(

grated

)
315,99 Kcal
calories per serving
Power 315,99 (Kcal)
Carbohydrates 46,74 (g)

of which sugars 20,49 (g)

Proteins 6,69 (g)
Fat 12,72 (g)

of which saturated 1,92 (g)

of which unsaturated 10,31 (g)

Fibers 1,19 (g)
Sodium 28,38 (mg)
How to make easy rainbow sponge cake
Shell the eggs – preferably at room temperature – in a bowl. Add the sugar and grated lemon zest. Whip the mixture with an electric whisk for about 5 minutes, until the mixture is light and fluffy.
Still beating with whips, pour the oil slowly. When you have incorporated the oil, add the water and the vanilla essence, while continuing to whip the mixture. When the dough is homogeneous, sift inside the flour mixed with the yeast.
Mix the dough with a whisk for a couple of minutes, until the flour is perfectly incorporated. At the end you will have a fluid and homogeneous mixture, but not too liquid.
Divide it into 4 bowls and put a spoon in each bowl, so you don't go wrong in mixing two bowls with two different colors using the same spoon.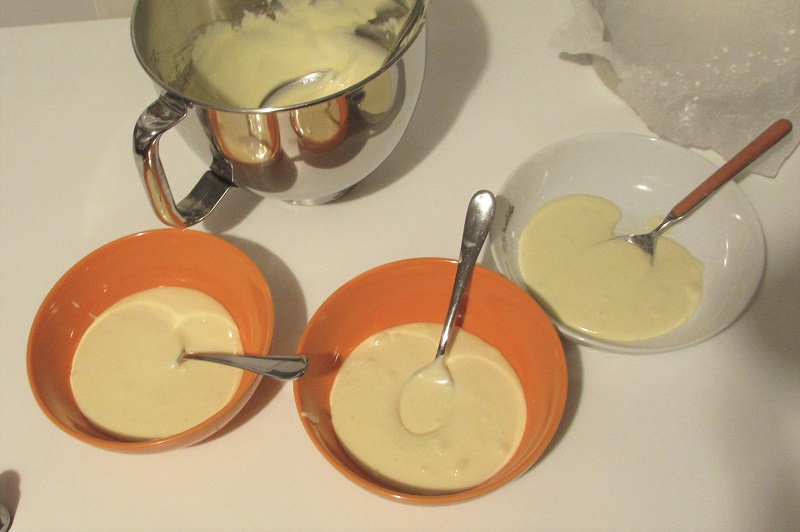 Leave one part of the dough in neutral color, while in each of the other three bowls put a hint of red, blue and green food coloring. Initially use a little dye and mix, so you will realize if you need more. To prepare the rainbow sponge cake, use food coloring in powder or gel form and avoid liquid ones that would make the dough too liquid.
Mix all the doughs well, until you have a homogeneous and rather intense color. Keep in mind that cooking will fade slightly.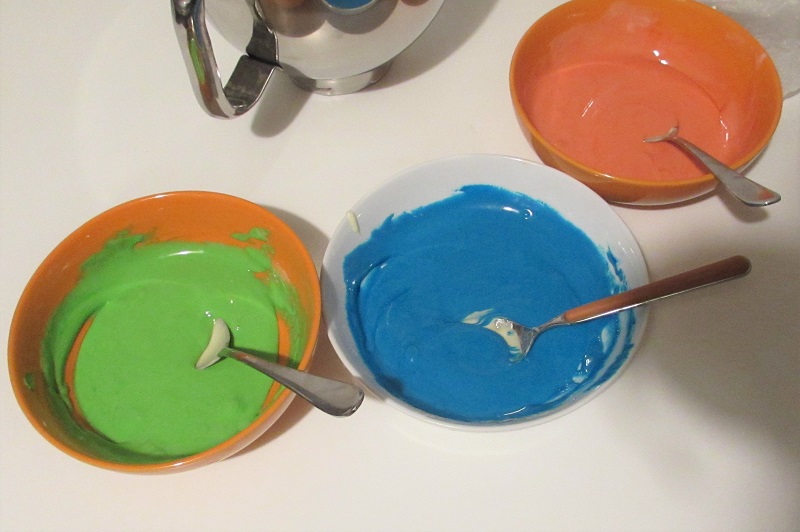 Line an 8-inch (20 cm diameter) cake pan with baking paper. Put a spoonful of neutral dough in the center of the baking pan. Let it spread and overlap, always in the center, a spoonful of blue dough. Continue with a spoonful of another color, always dropped into the center of the dough.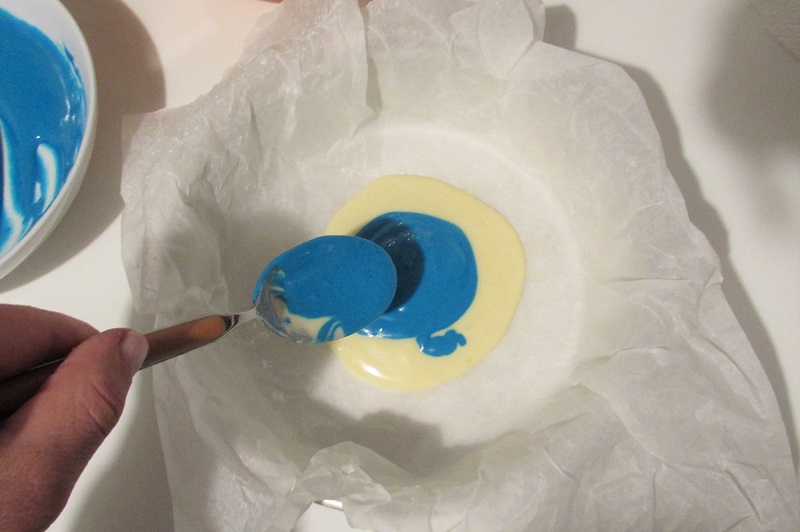 Continue in this way, always overlapping spoonfuls of dough of different colors, until all the doughs are completely exhausted; you will get a nice effect of colored concentric circles.
Without tilting the pan (or you will ruin this effect), bake the rainbow sponge cake in the preheated oven at 356° F (180° C) for about 40 minutes.
Before taking it out of the oven, check that it is also cooked inside pricking it with a wooden toothpick, which must be dry. If so, take it out of the oven and let it cool completely before removing it from the pan.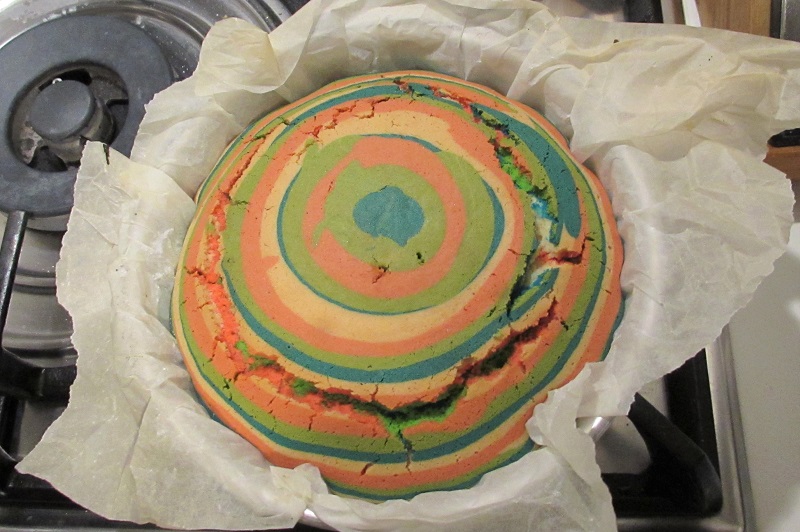 Otherwise, if the cake inside is still too moist, continue baking for 5-10 minutes. Serve the rainbow sponge cake as it is, or garnish it with a little icing sugar or whipped cream.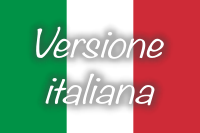 Puoi trovare la versione italiana della ricetta qui!
How to store the rainbow cake
You can keep the rainbow sponge cake in a cake container at room temperature. It remains soft for 3 to 4 days.
Tips and variation
You can prepare the easy rainbow sponge cake using the colors you prefer. However, consider that the base of the dough is yellow, so too soft colors are difficult to obtain.
If you want to cover the harlequin cake with whipped cream, you'll need 1/2 cup of heavy cream. Whip it with electric whisk together with 2 tablespoons of sugar. You can then garnish the cake with colored sprinkles.
Dairy-free and gluten free rainbow cake
This rainbow cake recipe is dairy-free and lactose-free. For a gluten-free rainbow sponge cake simply replace the all purpose flour with an equal amount of rice flour.