Potato Roll with Spinach and Ricotta baked au gratin. Here you are a hot appetizer idea everybody will love and kid-friendly. Perfect as a main course, but it can also be presented as an appetizer or as a snack in a buffet.
You can prepare it in advance, freeze and then take it out for browning in the oven. It can be made in different variations and even the ingredients can be customized according to your tastes. Just a tip: I wanted a no meat version, but if you prefer you can add sliced ham to the ricotta and spinach filling, or whatever you like. Yummy!!!
Follow my step-by-step photos below and enjoy it!
Let's see how to make Potato Roll with Spinach and Ricotta recipe! So let's get started.
Other tasty recipes: Thin and Soft Focaccia Bread, Broccoli and Potato Flan, Salmon Tartare
Difficulty

Easy

Cost

Cheap

Preparation time

20 Minutes

Cooking time

40 Minutes

Serving

6 – 8

Cooking method

Oven

Cuisine

Italian
Ingredients for the Potato Roll with Spinach and Ricotta
3.50
ounces
unsalted butter
(

100 g

)
4
eggs
(

separate the yolks from the whites

)
6.50
ounces
cooking cream
(

180 g

)
For the Filling
10
ounces
spinach
(

300 g

)
5
ounces
ricotta cheese
(

150 g

)
1.50
ounces
grated parmesan cheese
(

40 g

)
Steps
Potato Roll with Spinach and Ricotta is easy to make.
First cook the potatoes and while still hot, mash them with a potato masher and let them cool.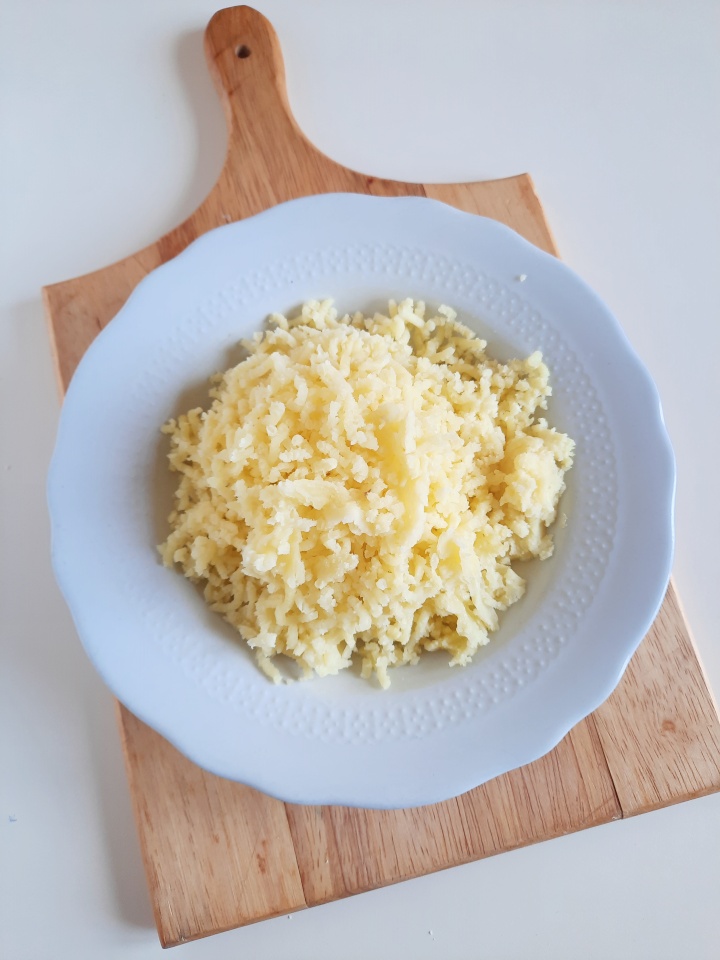 Meanwhile, separate the egg whites from the yolks. Mix the yolks with the soft butter until the mixture is soft (1). Add the cooking cream slowly and mix (2), then add the mashed potatoes, flour and salt (3).
Separately, whisk the egg whites until stiff, add them to the mixture (4) and mix them gently with a spatula (5).
Then line a baking tray (size 42 × 37 cm) with parchment paper, pour the mixture (6). Bake in a preheated oven at 350°F (180 °C), for about 15 minutes (7). Here before and after the cooking.
Filling and final cooking
While the potato roll is cooking, prepare the filling (8). In a bowl, mix the ricotta with the spinach and grated cheese (9).
Once the potato is ready, let it cool, then cover with the spinache and ricotta filling (10). Roll the longest side (11), wrap it with parchment paper (12) and put it in the fridge for at least an hour.
Then, take it out of the fridge and cut it into thin slices of about 2 cm. Place them in a lightly greased ovenproof dish, sprinkle with a knob of butter, a little grated parmesan and put them to brown in the oven for about 10 minutes.
Finally, here it is! The potato roll with spinach and ricotta is ready.
Storage
You can store the Potato Roll with spinach and ricotta once you have wrapped it in parchment paper (see photo 12 in the recipe) in the refrigerator for up to 2 days and in the freezer for 1 month. In this way, all you have to do is cut it into slices and brown it in the oven for about 10 minutes. Put it in an ovenproof dish and place it on the top shelf of the oven at 350°F (180°C) with the grill function. Remove from the oven and serve!