Classic dish of the Mediterranean cuisine Cuttlefish with Peas and Carrots is a light second course, easy to make, but at the same time very tasty. You can prepare it with or without tomato sauce: this time I made it white and we really loved it.
I used frozen peas, but you can replace them with fresh peas. The secret of this dish is a slow cooking, but not prolonged: in just over half an hour you will get a delicious second course and if served with croutons it can easily become a single dish, ideal for both lunch or dinner. Enjoy!
Let's see how to make the Cuttlefish with Peas and Carrots recipe! So let's get started.
Other tasty recipes with fish: Tuna Stuffed Tomatoes, Fennel and Salmon Salad, Octopus Salad with Fennel and Orange, Tuna Mousse Recipe, Smoked Salmon Pinwheels, Baked Salmon Pasta
Difficulty

Easy

Cost

Medium

Preparation time

15 Minutes

Cooking time

40 Minutes

Serving

4

Cooking method

Stove

Cuisine

Italian
Ingredients for Cuttlefish with Peas and Carrots
1
lb
cuttlefish
(

14 oz – 400 g

)
1
/
2
lb
peas
(

7 oz – 200 g

)
3
tablespoons
extra-virgin olive oil
Steps
The Cuttlefish with Peas and Carrots recipe is really easy to make.
First, clean the cuttlefish.
Place them on a chopping board and with the help of your fingers remove the bone and the entrails, then remove the skin and the eyes and rinse under running water.
Peel the carrots and cut them into cubes.
Sauté the finely chopped onion in a pan with 3 tablespoons of extra virgin olive oil; add the diced carrots and cuttlefish, season with salt and pepper. Pour a ladle of water and cover with a lid; after about 5 minutes, add the peas as well.
Continue cooking for about half an hour, adding water a little at a time, if necessary.
When the carrots are cooked, add the chopped parsley and garlic. Stir and cover. Cook for about 3 – 4 minutes.
Here they are. Cuttlefish with Peas and Carrots are ready.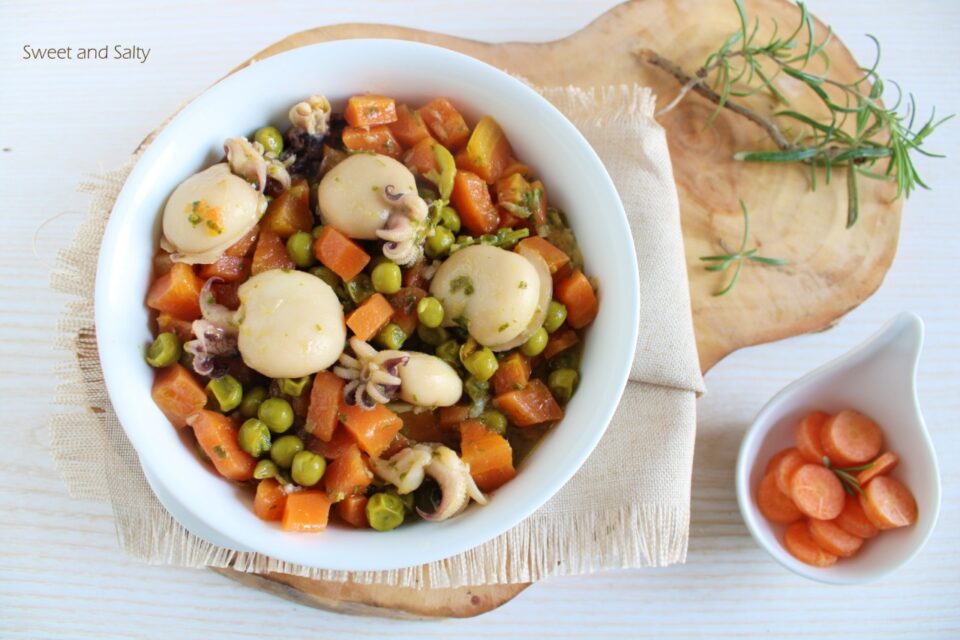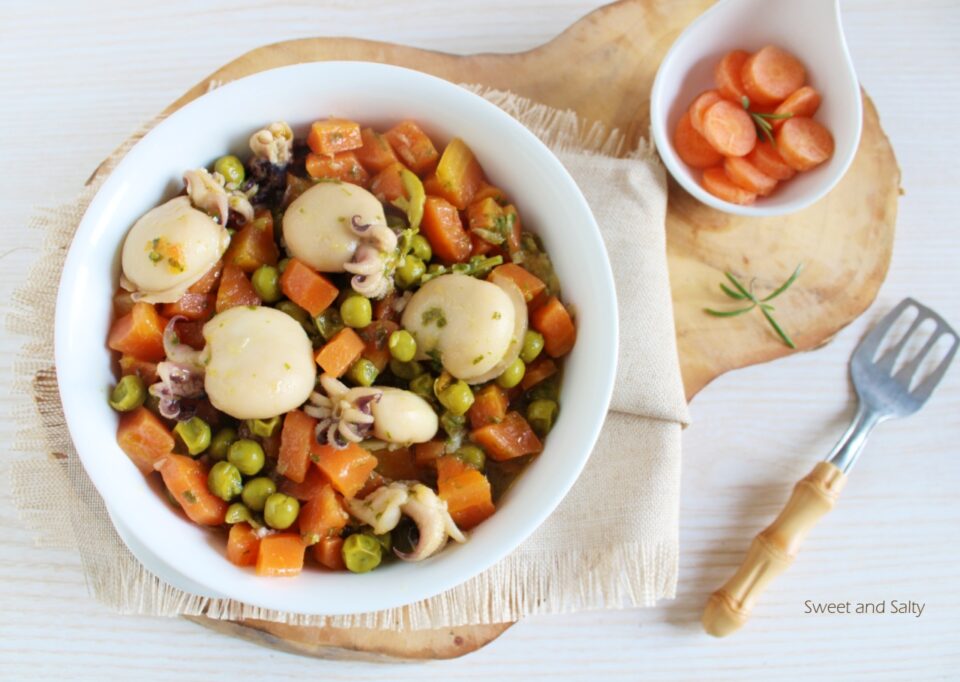 Storage
You can store Cuttlefish with Peas and Carrots in the refrigerator for 2 days closed in an airtight container.
I don't think you'll have any leftover, they're so delicious, but If you left some you can use it as a sauce for your pasta. It's a real treat!