When I think of autumn I think of pumpkin, chestnuts and mushrooms, I propose this Chestnut pasta with mushroom and blue cheese.
Chestnut flour has an almost sweet, nutty flavor and is quite strong in flavor and goes well with mushrooms. For this recipe I chose a mix of mushrooms including porcini, but Portobello or cremini are also good. This pasta is also enriched with blue cheese which is slightly spicy and makes it tasty and creamy. If you don't feel like making pasta at home, buy a good brand of fresh fettuccine or pappardelle.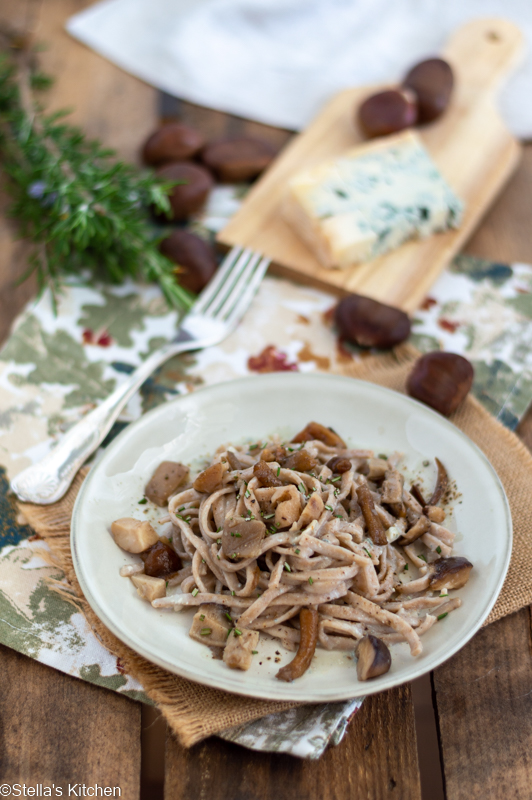 Difficulty

Medium

Cost

Medium

Preparation time

1 Hour

Cooking time

20 Minutes

Serving

2

Cooking method

Stove

Cuisine

Italian
Ingredients
Mushroom and blue cheese sauce
Steps
Place the flour on a pastry board, add the eggs, oil and salt in the center.
Start beating the eggs with a fork, gradually mix the flour.
If the dough is too dry, add water. Form a loaf and wrap it in cling film. Leave to rest for 15 minutes. Cut a piece of dough and rewind the other in the film.
Roll it out with a rolling pin or with a pasta machine. Roll out several times to the desired thickness by moving the roller of the pasta machine. Cut the dough into the chosen shape.
Clean the mushrooms well, removing any soil, cut them into chunks. In a pan, heat the oil with the garlic and a sprig of rosemary. Add the mushrooms and cook over high heat for 5 minutes without touching them. Season with salt and pepper, mix.
Continue cooking for another 5 minutes and deglaze with the white wine. Meanwhile, cook the pasta in abundant salted water. When the alcohol has evaporated, add the gorgonzola and a ladle of cooking water. Drain the pasta directly in the sauce and season. Serve with freshly chopped rosemary.

Cook's Tips
If you don't feel like making pasta at home, buy a good brand of fresh fettuccine or pappardelle.
Recipe variations
If you don't find fresh porcini mushrooms you can replace them with dried ones or use a mix with portobello or cremini.
Do you like my recipes? Then stay up to date by following my Facebook page.
Also follow me on Pinterest.