Christmas Dinner Ideas
. Christmas dinner and Thanksgiving dinner are easily the two main meals you serve all year long. If you're going to put in the time, why not make it really special with these simple Christmas dinner ideas.
From side dishes and appetizers to the main course, these simple ideas will take your meal to the next level and make your Christmas dinner awesome. Your vacation menu will be complete from start to finish.
If you like my recipes you can follow my faceboke page

You can follow me on pinterest by clicking 
 HERE

If you prefer my instagram channel click
Here

Have you made this recipe? We'd love to hear from you. Leave us a comment below.
Starters and side dishes
Main course
Easy lasagna recipe . Homemade lasagna is a classic in Italian cuisine. Every person will be able to cook it with this simple recipe . Tender sheets of pasta, a filling of mozzarella, ricotta and a rich tomato sauce with meat make the perfect dish!
Continue
Spaghetti with zucchini and walnuts. I was looking for a recipe to use some zucchini when I remembered I had a package of spaghetti in my pantry. The secret to a quick recipe is to prepare all the other ingredients while the water is boiling. You need to have everything ready before you add the […]
Continue
Spaghetti with crab meat . In Italy, spaghetti is prepared in many traditional recipes. The fresh flavors of this dish create a delicious meal that is easy to prepare and ideal for a dinner, just long enough to cook the pasta and the topping and voila it's all served. Spaghetti with crab meat is definitely a light and […]
Continue
Pork loin in the oven. Baked pork loin is the fabulous recipe! It's easy to prepare, easy to cook, tastes delicious and your house will smell amazing ! It takes a really good recipe to cook a pork loin that isn't dry, tasteless and tough. In the cold winter months, it pairs beautifully with creamy […]
Continue
Rolls of plaice and salmon. We enjoyed these plaice and salmon rolls so much, we'll have them again this weekend. I really like to cook plaice. It's a delicious fish especially when combined with a little salmon. I came up with this recipe that I hope you will enjoy. My family really liked it!This recipe […]
Continue
Braised meat in black wine . Braised beef in black wine is a timeless classic dish of the Italian cuisine. Just imagine for the holidays ,a succulent and tender beef for your family. Bowls of beef so tender and juicy that it falls apart at the touch of a fork, with the flavor of wine, […]
Continue
Salmon slice with spiced butter. Salmon fillets are a quick and easy meal to prepare , bring to the table with rice or mashed sweet potatoes.
Continue
Stuffed turkey roll. This stuffed turkey roll is a great alternative for those who don't have time to prepare the traditional holiday turkey. Not only is it packed with flavor, but it also bakes in just 1 hour and 30 minutes. This recipe can be prepared in advance, Ideal for Thanksgiving
Continue
Turkey breast stewed with spices with crispy potatoes . A classic, roasted turkey and potatoes is full of the most succulent flavors! Roasted turkey and potatoes with a gravy made with only 3 ingredients, just in time to plan your Christmas menu.
Continue
Dessert
Christmas Tree Cupcakes . These cupcakes that form a Christmas tree are so fun and easy to make! I baked the cupcakes with chocolate chips to use as the base of the tree and then topped them with green buttercream to make the tree. To decorate the tree you can use whatever you like, i […]
Continue
Christmas butter cookies. The flavor and texture of these Christmas cookies are fantastic! This recipe is based on the classic Italian style butter cookie recipe. These Christmas butter cookies are not only easy to make, they require only a few minutes and a few cookie ingredients! They bake in 10 minutes and are ready to […]
Continue
Salami with two chocolates. Chocolate salami is one of the most popular Italian no-bake desserts, made with dark chocolate, cookies, eggs, butter and sugar. Each Italian family has its own recipe: we have chosen to make a cake mixed with dark and white chocolate. " Salami with two chocolates " You can enrich it by […]
Continue
Star Christmas Cookies . Deliciously easy, melt-in-your-mouth cookies, these star-shaped cookies are the perfect Christmas gift. They make great homemade Christmas gifts and are super simple, so a great recipe to make with the kids.
Continue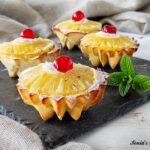 Mini cake with pineapple. Take a classic dessert recipe by serving it as individually sized cakes. These mini desserts can be made with fresh or canned pineapple. We are officially in the midst of the holiday season and at this time of year there are things as enjoyable as a pineapple slice cake. When it […]
Continue
Chocolate trunk cake. Today I wanted to create a tree trunk, this cake is the one I created the best dessert with it's irresistible chocolate frosting and true showstopper beauty. It is perfect for Christmas, or any birthday party
Continue
Cinnamon ginger cookies . If you're planning on making a batch of cookies this holiday season, I have the perfect recipe for you. It's a recipe I've been using for years with a cinnamon scent. You can bake these cookies a little longer to make them as crispy as you desire. It is perfect for […]
Continue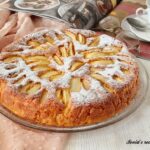 Easy apple and carrot cake . A cake simple to make , very tasty, children will never know that this cake is made with fruits and vegetables. This cake is moist and delicious. I usually prefer chocolate cakes and desserts, but this is my new favorite cake.
Continue
Cookies with apricot jam . Stuffed cookies are a shortbread dessert perfect for breakfast. I had great success making these simple cookies. So today I'm sharing with you another classic favorite: these simple jam filled cookies. The cookie dough for this recipe is made with just a few ingredients and they are ready in minutes.
Continue
(Visited 152 times, 1 visits today)