Pizza rolls with ricotta cheese and bacon are tasty little stuffed rolls.
Easy and fast in fact will take only 20 minutes to make them. This is because I used a ready-made pizza roll but you can make your own pizza dough at home.
With a few simple ingredients we can make these delights. In fact, a ready-made pizza roll, grilled zucchini, bacon and ricotta cheese will suffice.
You can serve the pizza rolls as a snack, ideal as an appetizer or finger food for a party.

Another version of these pizza swirls can be found on my Italian blog. There is also a video recipe. Here is the recipe/Qui la ricetta: Stuffed pizza rolls/Girelle di pizza farcite

You might also be interested in:
Italian roll-ups with salami
Mini croissants stuffed with salmon
High and Soft Italian Focaccia Recipe
Difficulty

Easy

Cost

Cheap

Preparation time

20 Minutes

Cooking time

25 Minutes

Serving

10-12 rolls

Cooking method

Oven

Cuisine

Italian
Ingredients for about 10-12 Pizza rolls with ricotta cheese and bacon
1
roll
pizza dough
(

refrigerated ready-made

)
3
zucchini
(

grilled in slice

)
3
tablespoons
chive
(

chopped

)
q.s.
extra-virgin olive oil
How to prepare Pizza rolls with ricotta cheese and bacon
Stuff the dough in layers with the ingredients
Unroll the pizza dough and roll it out lightly with a rolling pin to a thickness of about 1/4 inch.
Arrange a layer of bacon slices across the surface, leaving a clean edge all around.
Top with the grilled zucchini slices. Season with salt and pepper.
In a bowl, cream the ricotta with a pinch of salt and pepper and add the chives.
Spread over zucchini, coating completely.
Roll up and cut into slices
Starting with the longest side, roll the dough without squeezing it too tightly. Pinch the dough at the end to seal it.
With a sharp knife, cut the roll into slices about 1 inch thick. You will get about 10-12 rolls.
How to bake pizza rolls
Arrange the pizza rolls spread out in the baking dish lined with a sheet of baking paper.
Brush them with extra virgin olive oil.
Bake the Pizza rolls in a preheated oven at 200°F (400°F) for about 20-25 minutes until golden brown.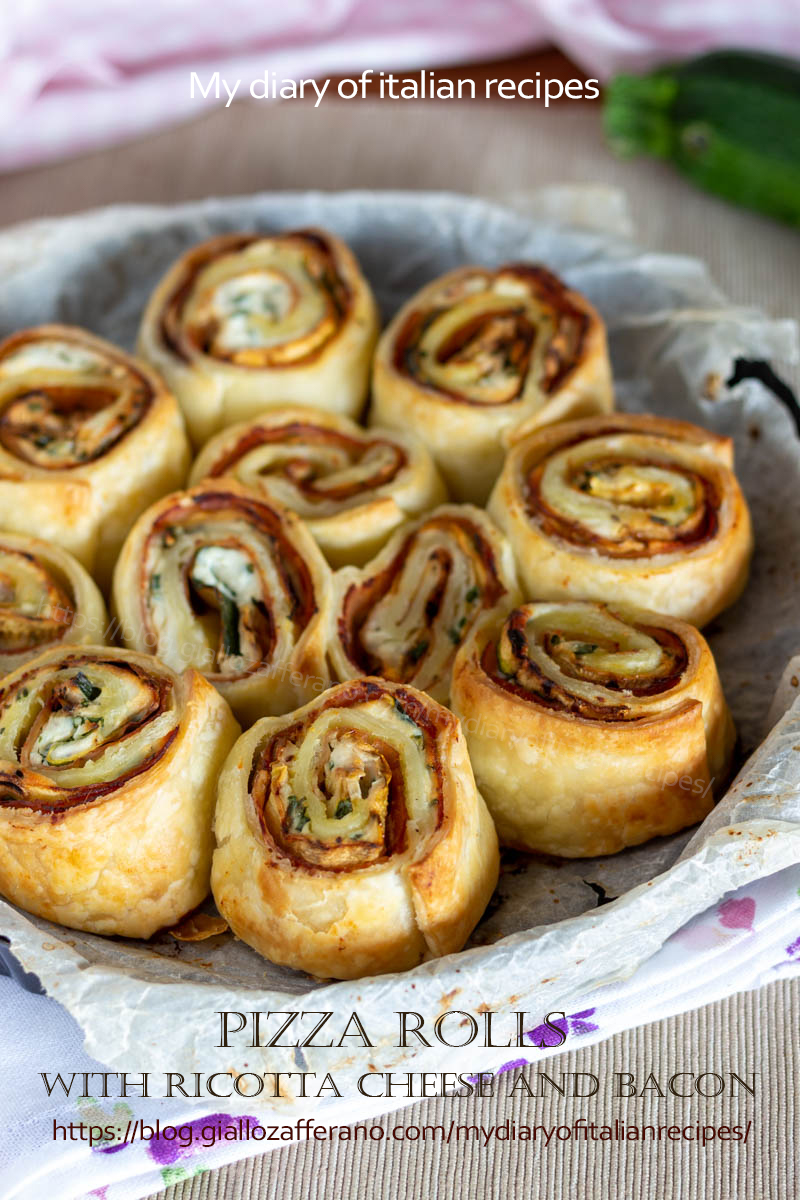 How to store Pizza rolls with ricotta cheese and bacon
Store leftover rolls at room temperature and consume within 3 days at most.
You can warm them for a few minutes in the grill or oven to restore their initial fragrance.
How to freeze pizza rolls.
You can freeze pizza rolls either raw or cooked.
To freeze pizza rolls unbaked: arrange them on a tray and freeze them. Place them in a freezer bag and use them up within 3 months.
To freeze baked pizza rolls: when they have cooled completely, place them in a freezer bag and use within 1 month.
How to defrost pizza rolls.
For uncooked ones: at the time of preparation, take them out of the freezer and thaw them in the refrigerator. Cook them as described above.
For the already cooked ones: put them in a preheated oven while still frozen, at 180°C (350°F) and heat them until they are hot.
Subscribe to my facebook page so you don't miss all the latest news.
If you like my recipes, don't miss the latest video recipes by subscribing to my You Tube channel by clicking here.
Visit also my site of recipe in italian language, Dolci Creazioni..e non solo..tatam, you can find, for example, more idea to prepare in your kitchen.
This post may contain affiliate links, which help keep the content free.