What is a Chocolate Macadamia Capucine? If I hade to describe it, I would say that is a cross over between a Macaron and a Mandorlino (Italian Meringue cookie with nuts). The Macadamia nuts make the combination more sophisticated in flavor, and the Meyer lemon ganache adds a surprising pop of vibrant freshness.
These Chocolate Macadamia Capucines are extremely easy to make, never as temperamental as the French macarons, are ideal also in a moist climate since they don't fear humidity.
Chocolate decadence in small bites. Give it a try.
Difficulty

Very easy

Cost

Medium

Preparation time

1 Hour

Cooking time

10 Minutes

Serving

12

Cooking method

Oven

Cuisine

European Center
Capucines au Chocolat
Ganache filling
1
teaspoon
Meyer Lemon zest
4
oz
dark chocolate drops
6
tablespoons
butter, unsalted
(

room temperature

)
Nut coating
1
cup
macadamia nuts
(

Roughly chopped

)
Capucines batter
90
g
egg whites at room temperature
18
g
cocoa powder
(

dutch processed

)
1
/
4
teaspoon
baking powder
1
/
4
teaspoon
coffee powder
Powder sugar
(

for coating, as needed,

)
Tools
1 Piping bag
1 Ateco 12 piping tip
Steps
Prepare the ganache
Prepare the ganache for the Capucines au chocolat :
In a microwave safe bowl, place the chocolate and the remaining ingredients. Melts at 20 seconds intervals and stir in between. When all the chocolate has melted and the mix is smooth, cover the bowl and place in the refrigerator.
To prepare the Capucines
1- Pre heat oven to 325F convection
2- sift the powders (powder sugar, cocoa, almond flour, baking powder, coffee powder) and set aside
3- Whip the egg whites with a pinch of salt, when the eggs show the soft peaks stage add the granulated sugar a tablespoon at a time, while whipping on high. Once you reach firm peaks fold the dry ingredients in.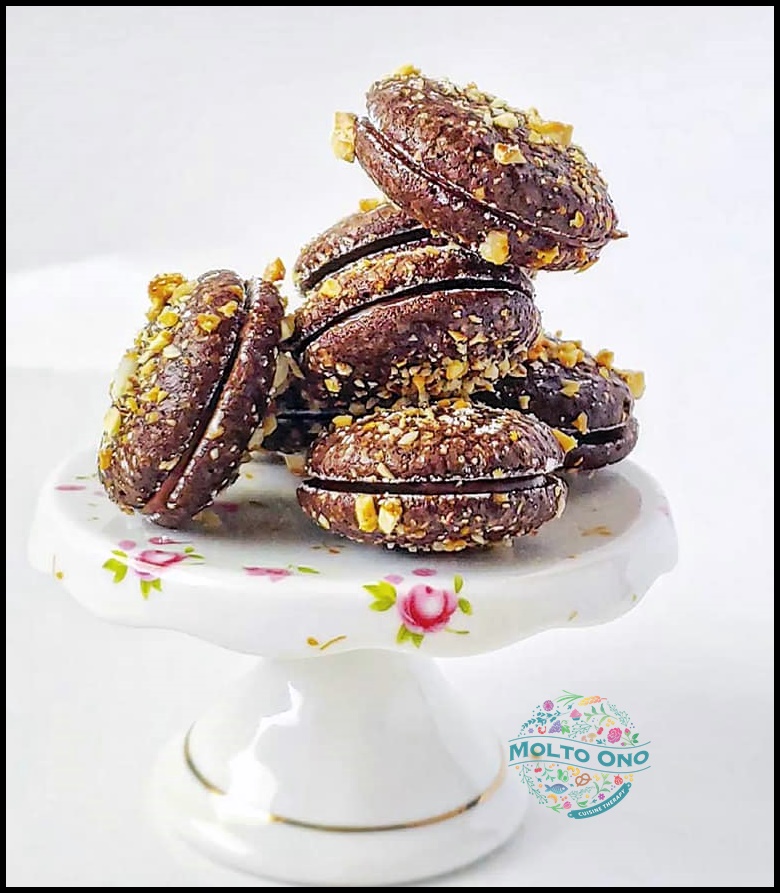 4- Transfer the batter into a piping bag and pipe small "buttons" on a lined baking sheet.
5- Dust the buttons with the ground macadamias and the powder sugar.
6- Bake about 10 to 12 minutes or more depending on the size.
7- Cool completely before filling with ganache.
The Capucines au Chocolat can be refrigerated or frozen. If kept at room temperature they will last 3 days in a sealed container.