Bonet translates to "Hat" in Piedmont, in the northern part of Italy. It is named after the popular accessory because, like a hat, is the last thing one puts on before leaving the house. A dessert is also the last triumphant entrée of a well done meal, just before the guests depart. The dessert originated in the 1300 and did not include chocolate, which appeared in Europe only in the 16th century. The recipe I share today is called Sabauda because instead it does feature chocolate. It is easy to make, just a handful of ingredients, but rich in flavor. Hope you will love it, too.


The dessert is baked "bain Marie" in a water bath so I use ceramic ramekins for easy unmolding.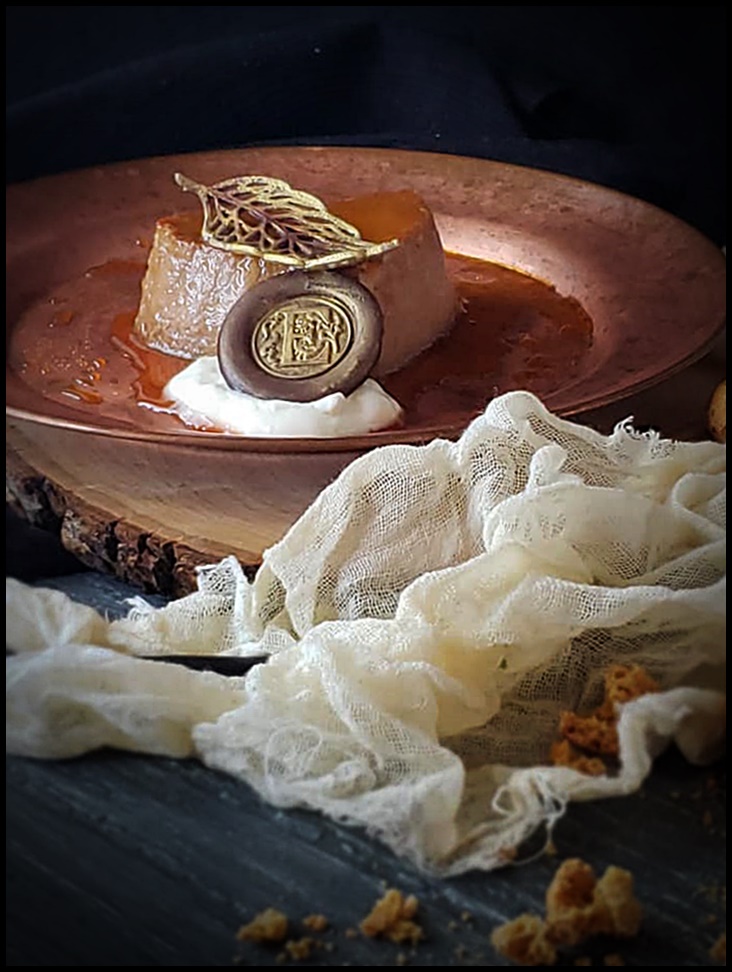 CARAMEL
The caramel is easy to make, but could potentially be dangerous because of the high temperature. Be safe when pouring the syrup into the ramekins
1

ounce

water

(about 2 Tbs)
BONET
2

ounces

dark chocolate

(Use semi sweet chocolate tablets of good quality)

4

eggs

(Large or extra large)

1

/

4

teaspoon

coffee powder

1

/

4

teaspoon

salt

(Kosher)

1

/

4

cup

rum

(Omit if necessary)
6

Ceramic Ramakins 4 to 6 oz capacity
Caramel Preparation

In a deep casserole mix sugar and water, over medium low heat, melt until the sugar is caramelized (dark honey color).IF the caramel has gone a bit too dark add 1 TBS of hot water, will help you slow the hardening process and stop cooking.
Pour equal amounts on the bottom of each ramekin. Act quickly or will solidify. Place the ramekins on a larger oven pan such as a 9×13 roasting pan.

BONET MIX
Place the hard Amaretti cookies in a food processor and pulverize. Set aside.
Now chop the chocolate, roughly. Set aside.
Bring the milk and Rum to simmer over low heat. Add coffee powder if using. Add the chocolate, wait 30 seconds and then stir to melt.
Meanwhile beat the eggs with the sugar, salt, and Amaretti powder. Now add the chocolate milk.
DO NOT whisk vigorously. You don't want to have too many bubbles, the custard needs to be smooth.
Pre heat oven to 325° F static
With a ladle, gently lifting from the bottom to the top, divide the mix equally among the 6 ceramic cups.
Place it in the oven and add enough lukewarm water until it reaches ¾ of the heights of the cereamics .
Bake undisturbed for about 40~45 min. Check for doneness touching the surface and shaking the ramekins. If necessary bake 10 min longer. The custard will firm up in the fridge, where should rest minimum 3 hours or overnight.
Using a pairing knife if needed, unmold the Bonet on a serving plate.
Garnish with a dollop of whipped orange cream or chocolate decorations.
For the decorations I used the same chocolate (Chocolate Liquor Wafers) melted and piped or stamped with a frozen brass tool.