It's Fall y'll!
Let's celebrate the bounties of the season with one of my favorite flavor combinations: Chestnut pasta with a spicy and rich venison ragout. It seems such a complex dish to prepare, in reality is super simple, but will make your guests think you worked for days on it! If Italian comfort food could be just one dish, I think it could be this one for me. Memories of my falls in the Umbrian hills of Preggio, roasting chestnut on the fireplace. My uncle wild boar hunting. Each season has a plethora of new tastes and matching opportunities to savor them.
Let's do it!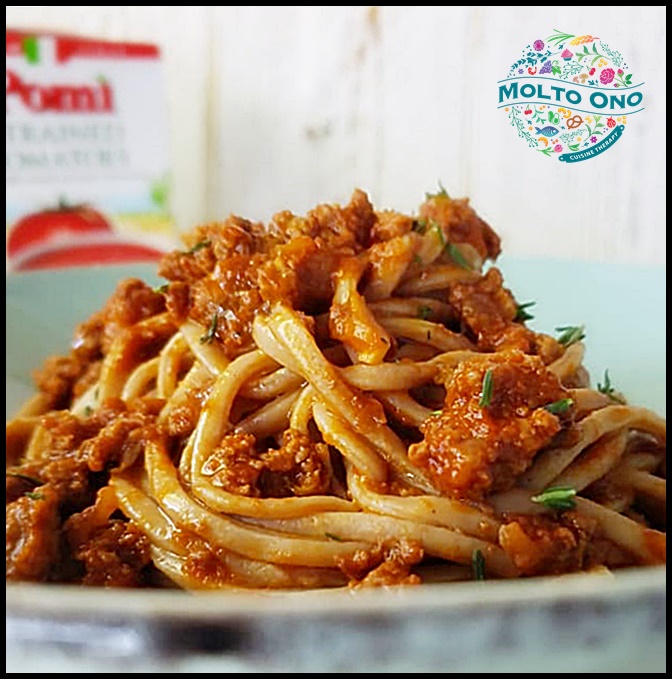 Preparation time

4 Hours

Rest time

30 Minutes

Cooking time

5 Minutes

Cuisine

Italian
Ingredients for the ragout
1

pound

ground venison meat

(substitute for any meat if you like)

2

tablespoons

tomato paste

(in tube, concentrated)

1

cup

wine

(sweet, of good quality like Port)

(salt and pepper to taste)
Pasta dough
7

ounces

semola rimacinata
Pasta tools
1

Pasta Machine

Atlas Marcato
Preparation of the Ragout
Place the minced garlic and oil in a large casserole, and saute' over medium heat. When fragrant, add the remaining aromatics : celery, onion and carrot. Let cook until the onion is translucent.

Add the meat and cook with a pinch of salt on high until all the juices have evaporated.

Mix the tomato paste with wine and add to pot.

Reduce by half.

Add tomato sauce and broth, spices and let simmer with the lid ajar until the sauce has become rich and thick, about 2 hours.

Taste for salt and set aside.

If tomatoes are too acidic for your taste, add a splash of balsamic vinegar and keep cooking.
Pasta making instructions
Gather the flours in a large bowl.

Add a pinch of salt and make a well in the center.

Place the eggs, the yolks, the oil in the center of the well and start incorporating with a fork.

Incorporate water as needed switching over to using your hands, until you obtain a cohesive mass.

Transfer the dough to a flat working surface and knead for about 10 min until smooth like in the picture.

Cover the dough with an inverted bowl and let rest for 30 minutes.

After the time has passed, cut the dough into small chunks and run it through the pasta machine and then the chosen attachment to make Fettuccine, Pappardelle or Bigoli.

Keep the freshly cut pasta coated in semolina so won't get gooey.
Assembling the dish
Boil the pasta in abundant salted water until it comes afloat, about 3 minutes.

Immediately toss in a bowl with sauce and additional oil to create a creamy consistency.

Top with grated Pecorino if desired.

Serve at once.