It's not Holiday season in my kitchen without Cinnamon Cranberry sauce!
Homemade, of course, and I don't use the term "best" lightly. It truly is!

As many of you might know, I lived in Oregon for an extended period of time. There, I learned to love Cranberries. In fact, Oregon is a major producer of this lovely tart fruit.
Needless to say, fresh Cranberries are key to the success of this recipe. The original version was given to me by the very first friend I made in Oregon, it was Thanksgiving day 1996.

Tina opened the door, and I was mesmerized. Tall, loud and colorful like me! (minus the tall part, or course )
We have been friends ever since and , despite the distance, there is no Thanksgiving day that I don't serve the familiar flavor of Tina's Cinnamon Cranberry sauce at the table.
Light, fresh, addictive.
Try it on a Turkey meatloaf, baked with brie and pecans, over pannacotta or pancakes.
This easy Cranberry sauce will become a favorite of your, too.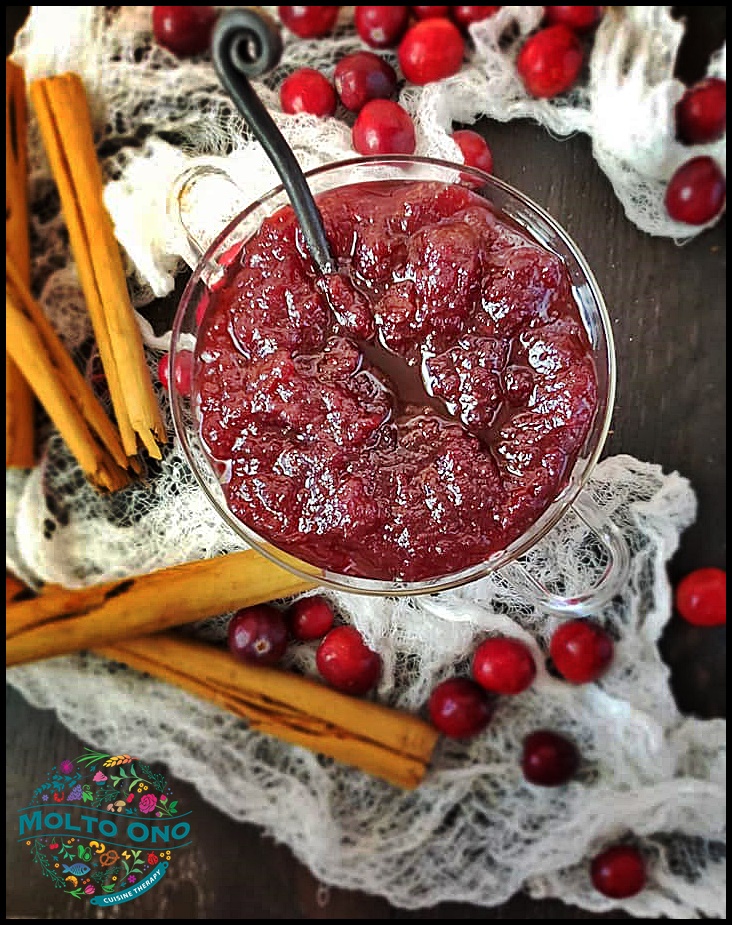 Difficulty

Very easy

Cost

Medium

Preparation time

30 Minutes

Cooking time

1 Hour

Serving

12

Cooking method

Stove

Cuisine

American
Ingredients
1
cinnamon stick. Large
(

I use fresh sticks

)
Steps
Preparation
Rinse the fresh cranberries and place them in a medium tall casserole with 3 cups of water, the cinnamon, bay leaf, cloves, rosemary. Bring to boil over medium heat and keep simmering until the cranberries burst and become super tender, about 30 minutes.
Remove the cinnamon sticks, and set them aside for later.
Strain the content of the pot into a large bowl.
With a spatula or a wooden spoon press the cranberries against the mesh of the strainer, until they release the pulp.
In the end, inside the strainer you should have left just the skins, and the spices.
Return the cranberries pulp, the cinnamon and the water to the casserole, again over medium heat.
Add the grated orange zest now.
Let simmer until reduced and the sauce thickens up. I test it over a chilled plate to see who will behave once is cold. You can decide the perfect consistency.
Transfer to a small bowl and place plastic wrap on contact.
Refrigerate for up to a week or freeze.
Bring back to room temperature when serving.
This sauce is terrific n pancakes, cinnamon rolls, brie cheese and much more.
Enjoy!