Today a really easy recipe but appreciated from all, radish risotto with red wine . Is the perfect plate for Christmas lunch but also for lunch's or dinners with friends or family but also for a casual winter day when you wish to eat something warm and tasty.
Difficulty

Very easy

Cost

Very cheap

Preparation time

5 Minutes

Cooking time

20 Minutes

Serving

4

Cooking method

Stove

Cuisine

Italian
Ingredients Radish risotto with primitivo and almonds
40
g
extra-virgin olive oil
Steps Radish risotto with red wine
First thing to do is prepare the vegetal broth by putting in a pot water, onion, carrot, potato, tomato, celery, parsley and, if you have some vegetables such as zucchini or peppers, add it to make your broth tastier. Wash and cut in pieces the radish and in a pan fry the onion that you have previously cut in thin slices with the oil and then add the little pieces of bacon (1). Add pieces of radish and let it soften for a few minutes (2). Toast the rice with the bacon and the radish (3). At this point vanish it with red wine (4). Start to add the hot broth and mix it (5).
When risotto starts to dry it pour it other broth in it and continue to mix it (6).
When it will be ready turn off the fire and whisk with Parmigiano (7) and butter (8).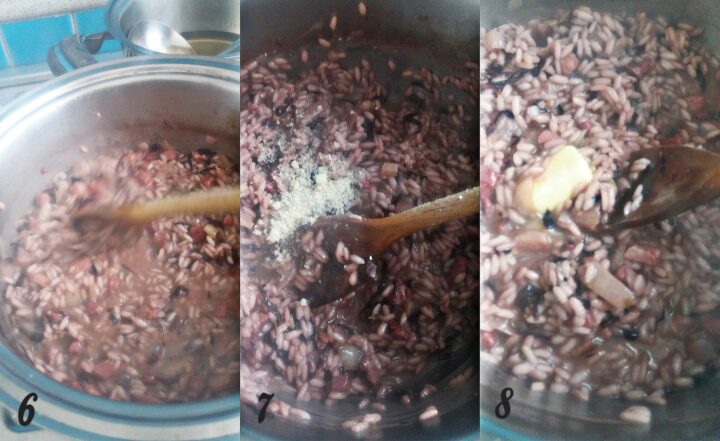 Now our risotto is ready to be tasted.