Veal with tuna sauce VITELLO TONNATO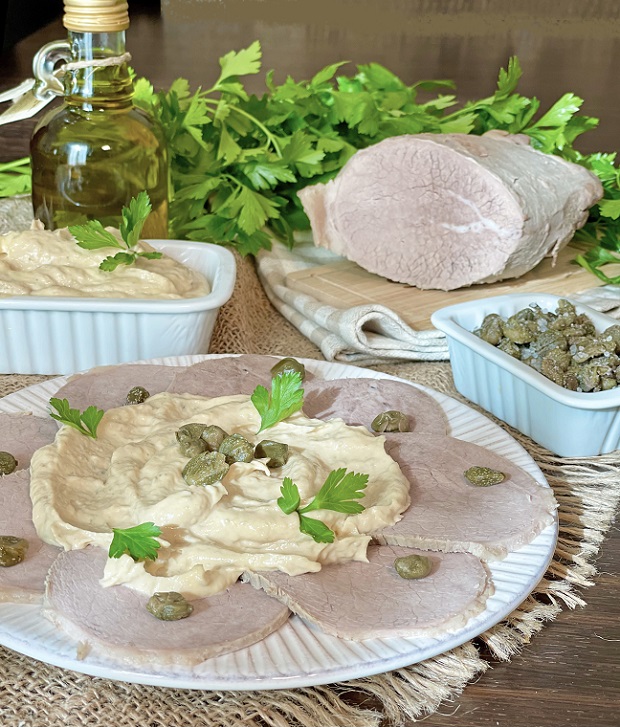 Vitello tonnato is a typical dish of the Italian tradition.

Thin slices of veal are served cold, seasoned with a cream based on anchovies, tuna, hard-boiled egg yolks, capers, lemon juice and vinegar. This recipe starts with a cut of whole veal rump, but chicken breast can also be used.

Unlike many modern recipes for vitello tonnato, this one, as the Italian tradition teaches, does not use mayonnaise.
 
One of the secrets, besides choosing the right piece of meat, is how it is treated. It must be boiled in water, lots of white wine and certain spices to obtain that unique flavor note that goes perfectly with the accompanying sauce.
 
Try this recipe and you will be amazed at the results.

It is a versatile dish that can be served both as an appetizer and as a main course, or even as a filling for a sandwich.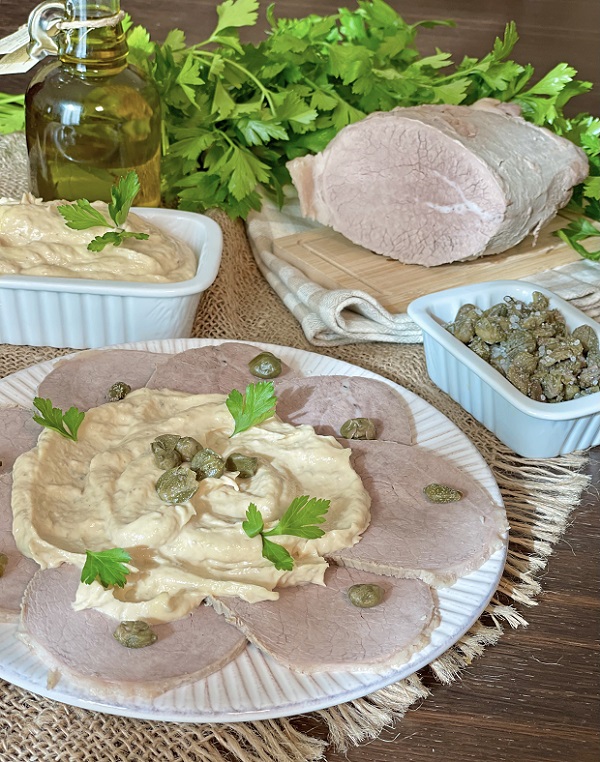 Difficulty

Very easy

Cost

Medium

Preparation time

20 Minutes

Cooking time

50 Minutes

Serving

4/6 portions

Cuisine

Italian
291,04 Kcal
calories per serving
Power 291,04 (Kcal)
Carbohydrates 3,89 (g)

of which sugars 0,86 (g)

Proteins 35,76 (g)
Fat 12,89 (g)

of which saturated 3,65 (g)

of which unsaturated 4,44 (g)

Fibers 1,51 (g)
Sodium 896,51 (mg)
Ingredients
VITELLO TONNATO
2.2

pounds

veal fillet

(chicken breast)

3

tablespoons

extra-virgin olive oil
Topping
anchovy in oil

(2 fillets)

3

tablespoons

capers

(pickled or salted, rinsed and drained well.)

vegetable broth

(1 ladle + 3,5 ounces of boiled vegetables)
Preparation
PREPARE VEGETABLES
Wash celery, remove ends and cut into pieces; peel onion and divide into 4 parts; wash and peel carrot, remove the ends, then cut into pieces; clean garlic from the skin but leave it whole.
PREPARE VEAL
Take a large pot and place the piece of meat, the previously cut vegetables, bay leaf, cloves and peppercorns.

Then pour in white wine and water. The meat must be completely covered. Finish with the addition of salt and oil.

Start cooking over medium heat.

As soon as it reaches the boil, close with the lid, lower the heat and let it cook for about 45-50 minutes (in general, consider 30 minutes for every 500 g of meat).

Once the piece of meat is cooked, remove from the broth and let it cool completely.
BROTH FOR TUNA SAUCE
Remove all the spices (bay leaf, pepper and cloves), put in a saucepan about 1/3 of the broth obtained from boiling the meat.

Put on the fire and let it reduce over high heat for about ten minutes.
PREPARATION OF TUNA SAUCE
Cook hard-boiled eggs (for a perfect hard-boiled egg, calculate about 9 minutes from the moment of boiling).

Once cooled, shell the eggs and cut into 4 parts.

Drain the vegetables from the broth and take about 3.5 ounces.

Drain the tuna from the conservation oil and finally desalt the capers and anchovies.

At this point, put all these ingredients in the mixer and add a ladle of broth.

Blend until you get a smooth and homogeneous cream.

If it seems too thick, add a little more broth. Taste and add salt if necessary.
PRESENTATION
Cut the meat completely cold with a sharp knife with a smooth blade.

Arrange the slices on a serving dish and pour a few spoonfuls of sauce in the center.

Garnish with a few whole capers.

At this point your vitello tonnato is finally ready and can be served!
NOTE
Recommended cuts of meat: Magatello or silverside, walnut, fish. The meat must have a good firmness and must be kept cooking.
Otherwise, after cooked the slices crumble.
STORAGE
Vitello tonnato can be kept for a maximum of 1-2 days in the refrigerator, covered with cling film. It cannot be frozen.
The tuna sauce can be used to flavor leftover slices of ready-made roast or to fill sandwiches.