CHOCOLATE CHESTNUT Cake


This wheat-free chocolate cake with the earthy flavor of chestnuts is surprisingly light.

This cake is really that good. It has a wonderful texture like most flourless chocolate cakes, but the chestnut adds an extra layer of delicious flavor and a hint of something different.

I can only describe it as adding flavor which is something between a sweet potato with hazelnut. Sounds a little weird, I know.

It's hard to nail the flavor and describe it perfectly if you've never had it.

Many aren't big fans of it or at least think they aren't until they have it in this cake. The cake can be baked a day or two before serving.
Difficulty

Very easy

Cost

Cheap

Preparation time

20 Minutes

Cooking time

40 Minutes

Serving

8

Cooking method

Oven

Cuisine

Italian
Ingredients
4
ounces
chocolate
(

115 grams 65% percent cacao

)
1
/
2
cup
chestnut flour
(

55 grams

)
4
ounces
unsalted butter
(

115 g

)
1
/
4
teaspoon
cream of tartar
1
/
2
cup
chestnut
(

85 g chopped cooked chestnuts, use canned or vacuum-packed

)
Steps
STEP 1
In a bowl, beat the egg yolks with half the sugar (1/4 cup / 50 grams) and salt until light and thick.

Melt the chocolate and butter in a bowl placed over the boiling water until the chocolate is almost completely melted, then remove from the heat and whisk the mixture until smooth.

Incorporate the hot chocolate into the eggs.
STEP 2
Place the egg whites in a clean bowl with the cream of tartar and beat until fluffy, then add the remaining 1/4 cup / 50 grams of sugar and beat until the egg whites are stiff but not dry.

Mix the chestnut flour and chopped chestnuts in the chocolate batter, then stir in 1/4 of the whites to lighten the mixture. Fold the remaining whites and scrape the batter into an 8-inch non-buttered springform pan, leveling the top if necessary.
STEP 3
Heat oven to 375 degrees.

Bake for 25-30 minutes, until a toothpick inserted in the center of the cake comes out almost clean. Cool on a wire rack. Transfer to a serving dish.

You can serve like this or decorate with cream and sprinkle with curls of chocolate or cocoa powder.
NOTE
Just grind chestnuts finely in the food processor if you cannot find chestnut flour.
You can also use vacuum-packed roasted chestnuts for both flour and chopped chestnuts. Grind 55 grams in a food processor for chestnut flour, it works well. Your recipes are the best!
I recommend boiling, as it's easier to peel the inner skin (the thin membrane that clings to the nuts) with boiled chestnuts. Keep the chestnuts in hot water as you work–this also helps.
STORAGE
The cake can be stored, covered, at room temperature for up to 3 days.
FOLLOW MY INSTAGRAM PAGE, CLICK HERE
Try other Italian recipes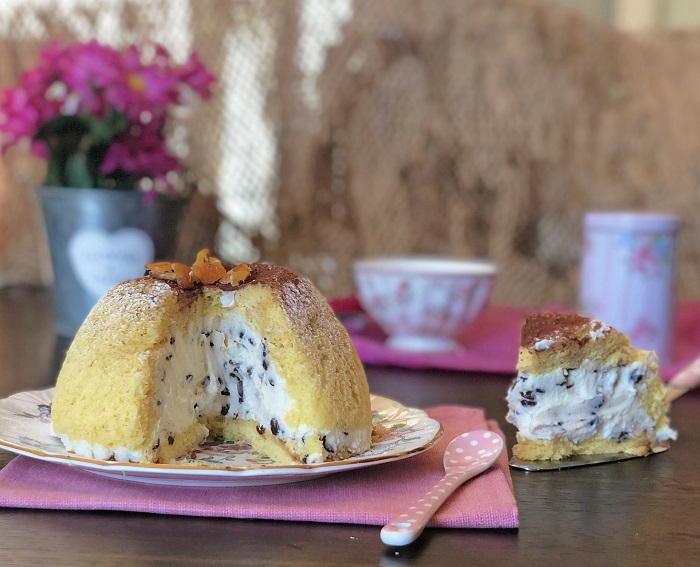 How to prepare hand made EASY PANETTONE
Homemade SICILIAN CANNOLI recipe